ANDY WILLIAMS IMPERSONATOR TRIBUTE SHOWS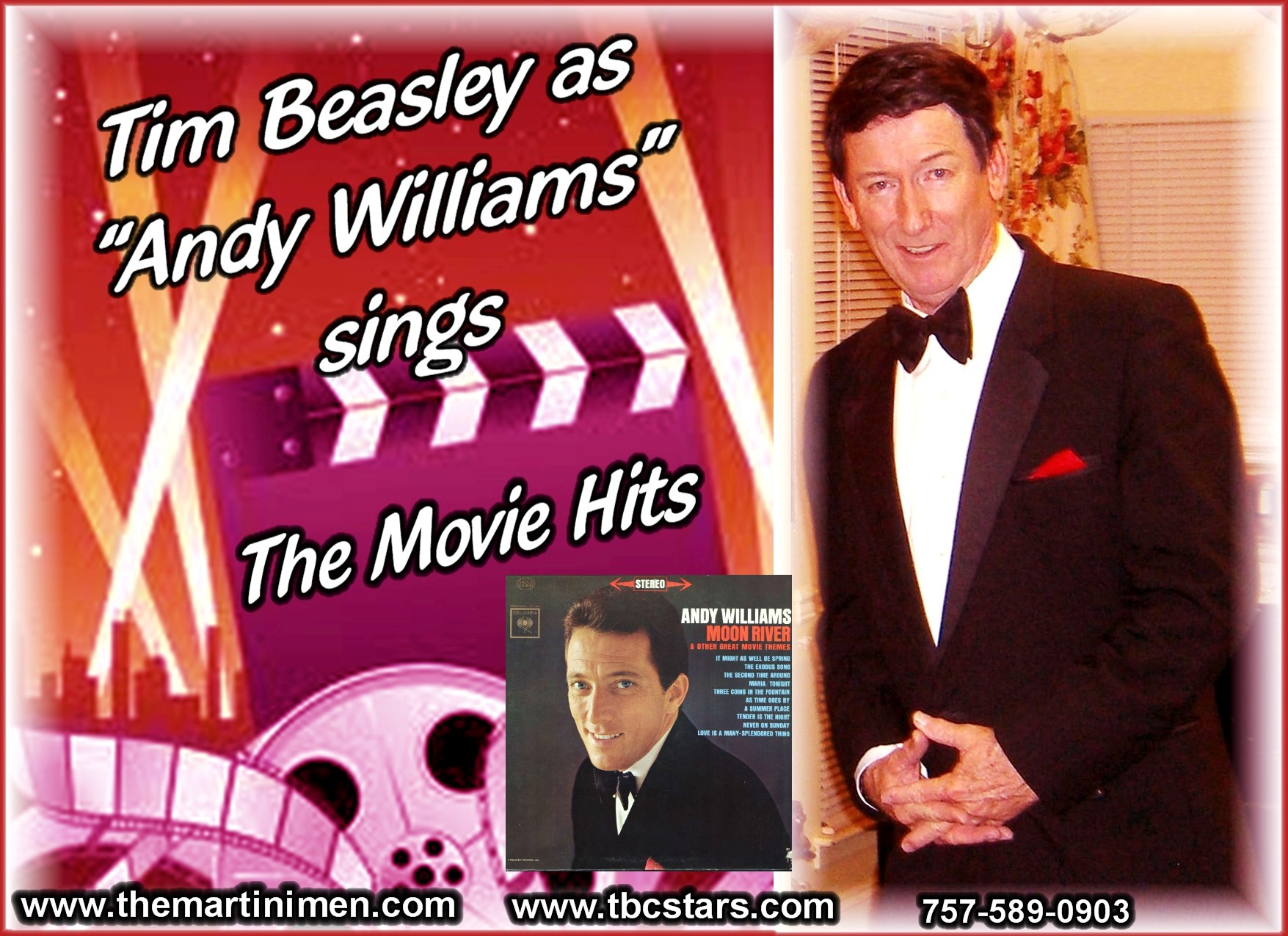 Andy Williams will always be one of America's greatest entertainers in our book, and as a fact he was a very big member of "Las Vegas royalty." In 1966, he headlined at the grand opening of Las Vegas' iconic Caesar's Palace Casino & Nightclub with the stage production of "Rome Swings," to a sold-out crowd in the Circus Maximus showroom. He also headlined there at Caesar's for the next 20 years!
[ As a.life-long fan of Andy's great music and TV shows, I regrettably never got to meet or see him in person. I was in Branson on show business back in Feb of 2004, and while there had hopes of finally meeting him. Unfortunately it was not to be as his Moon River Theatre was closed for the winter season. On Sept 25, 2012, we all lost a great and grand gentleman in his passing . Peace and love to his family, friends and many millions of fans. Tim Beasley.]
We want to include him as one of those "Oh yeah, Andy!!!" responses when you see our tribute to him is also very popular and available. Andy's super-string of hits from adult contemporary, top of the pop charts and impressive collection of award winning "movie songs" made him an entertainment legend, with many millions of fans. So...just consider how cool it would be to have "Andy" in tribute for your glamour gatherings and even 'Hollywood" theme parties....Always cool, casual and smooth like cashmere, he's a superstar! "Andy" goes fine with great wine, and all manner of high society events, socials, weddings, (see photos of the recent wedding at the famous "Moon River Ranch" in Satin, TX near Dallas) anniversaries and other grand celebrations!. His smooth delivery of songs made all that he performed instant classics.
Tim Beasley, a life-long fan of Andy and his music and grand TV shows, always admired the amiable ease Andy held with any audience, and the velvety way he breathed life into each of his song performances.
Show is performed with Tim Beasley singing live vocals, in impression of Andy's voice and range, and a visual impersonation in his stage presense, similar build, hair and facial features accented, and sharp tux appearance, and sings into a professional Shure microphone on chrome stand. The live vocals are mixed with prerecorded "backing tracks" from a CD, or similar media to effect the sounds of a full orchestra, and reproduce the legendary live shows Andy Williams was known and loved for. Tim can perform as the young "1950's -1960's "Andy," as pictured above, or in his older, sixties, silvery senior star role, shown below in a show for an exclusive retirement community.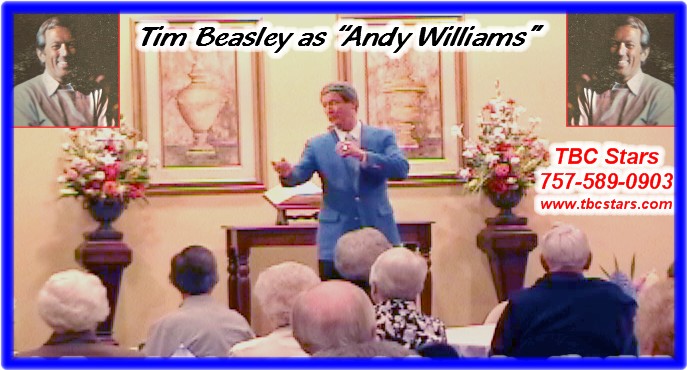 The professional sound equipment needed for a great show in a smaller or medium-sized venue to entertain 35-350 guests is very basic, of about 1500 watts, and can be provided in a drivable range which is normally about a 350 mile radius from Virginia Beach, VA. We also have the professional theater lighting and even special effects lighting to give a very sophisticated look to the show. All equipment is top brands for the best sound and attractive in appearance with a "Las Vegas" / "Branson" motif. As this is a one-man show, the performance is conveniently compact in stage area needs, so works well either on full stage or minimum of 8' X 10' but very high in visibility and feel.

Plus, with Tim's "The Martini Men" ( http://www.themartinimen.com ) variety tributes, you can have Andy sharing the marquee with "his" old pals "Frank Sinatra, Dean Martin, Bobby Darin or Tony Bennett..lots of possibilities and of course your choice for a great show!

For engagements nationally, flying in for the engagement, if the show is for an initimate party of up to 30 guests, we bring a portable professional sound system that works great for those, but a larger group, such as 30 -300 guests in a hotel ballroom or banquet hall, we suggest the Audio / Video dept at hotels and resorts venues provide the set up for the show, or have a sound re-enforcement sub contractor or DJ company do this, with the types of equipment outlined.
Clients and venues have included many wonderful resorts and exclusive 55+ golfing communities and country clubs nationally.

Songs Performed:

"Moon River' (from "Breakfast At Tiffany's")

"Days Of Wine And Roses" Title Song

"Exodus" Title Song

"A Summer Place" TitleSong

"Alfie" Title Song

"Love Is A Many Splendored Thing" Title Song

"Dear Heart" Title Song

"Born Free" Title Song

"Godfather Theme - "Speak Softly, Love"

"Dr. Zhivalgo Theme - "Lora My Love"

"Butch Cassidy and the Sundance Kid Theme - "Raindrops Keep Falling On My Head"

"Westside Story Theme - 'Tonight, Tonight"

"Romeo & Juliet Theme - "A Time For Us"

"Mondo Cane Theme - "More"

"Blue Hawaii" Title Song
...and more!!!
Weddings and Anniversaries are truly romantic when "Andy" is the wedding singer!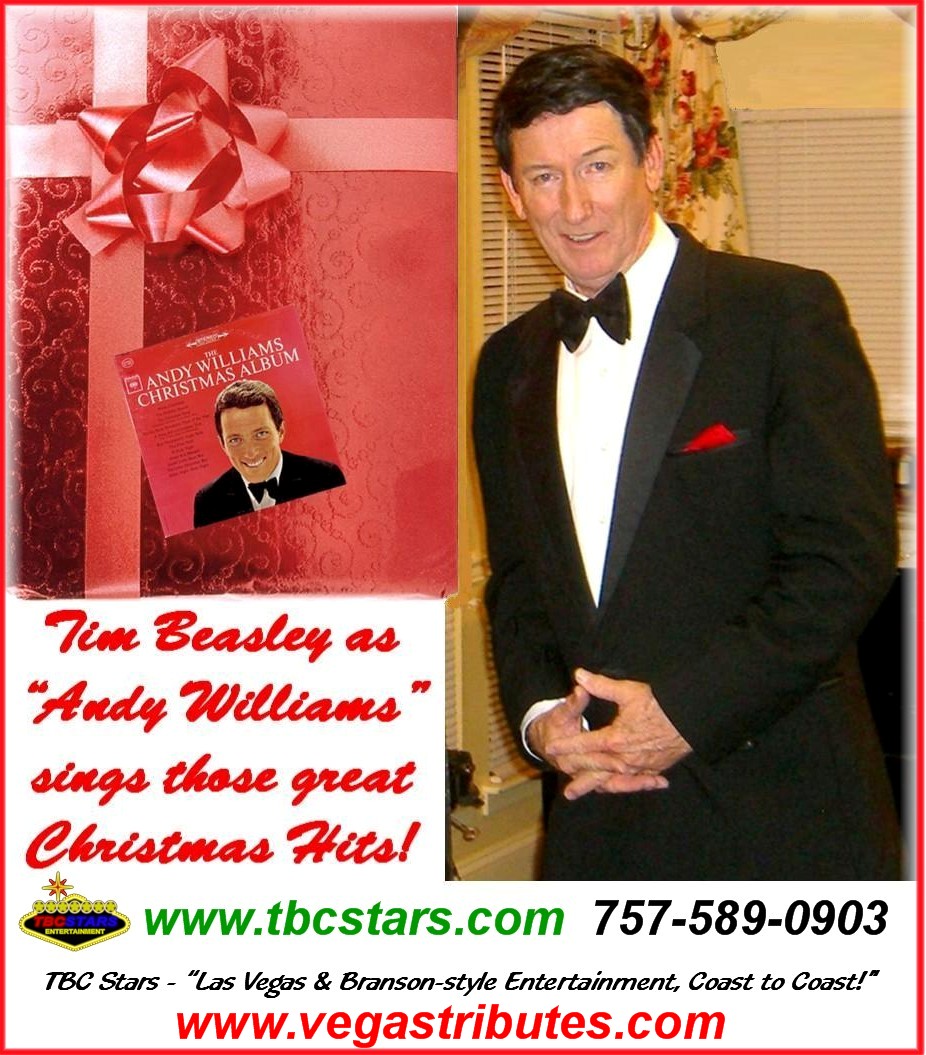 The unique Christmas season tribute show, "Christmas With Andy" is a great holidays show featuring those classic holidays songs of Andy like
"It's The Most Wonderful Time Of The Year"
"Happy Holidays"
"White Christmas"
"Oh Come All Yea Faithful"
"It's Beginning To Look A Lot Like Christmas"
"Silver Bells"
"Winter Wonderland"
"The Christmas Song"
"Let It Snow, Let It Snow"
"Jingle Bells"
"Sleigh Ride"
...many more!
Andy Williams video collection of several unique shows in a variety of venues:
http://www.youtube.com/playlist?list=PLfgTVtGCxkTklfex_JCjna8bODLG_VE0L&feature=view_all