The great thing about these
Vegas Tributes "one man - multi-stars"
shows besides the popular performances is that they are
easily tailored time-wise to fit any event's schedule
. There are many different possibilites and options for these performances to be either the
headliner
or
special appearance
, and fit
a very wide spectrum of event themes and flavors
. Shows can be the
Vegas Tribute Star
of your choice as a one-star solo spotlight performance, or special engagements featuring two, three
even
four different stars of your choice, for
an entire evening of grand entertainment!
Here's a few examples, using the fun flash back "Rock n' Roll Heroes" TM show as a typical reference for how a "3 Star" show runs....
(2 different groupings for "Rock n Roll Heroes" ...lots of possibilities!)
For typical dinner theater-style 90 minutes performance, featuring the one man multi-stars show with say, 3 different stars , there are 3 individual 25 minute sets. Show opens with the first 25 minute set, followed with a small 7 minute transition "break" to change costumes between it and the second 25 minute set. At the second set's conclusion show is then into approx 57 minutes, followed by the same 7 minute break to start the third and final 25 minute set at 64 minutes.
(For the 'Rock n' Roll Heroes'" 60's style show, as 7 minute breaks begin, a prerecorded voicing as "Johnny Carson" invites audience to have fun for a few minutes singing along to a few classic rock hits such as "Wild Thing," "Doo Wah Diddy Diddy," "Bad Moon Rising," etc, until "Johnny" reintroduces the show and next "Rock n Roll Hero".....if the show is say "The Martini Men," then matching classic lounge tunes are played.)
Third set of 25 minutes concludes at approx. 90 minutes of total show time, plus after show 20 minutes of "meet & greet," photos with guests.
You can also choose your favorite Vegas Tribute Stars for your personalized show, as some fans may only want "Dean Martin" or "Frank Sinatra" for a 30 or 60 minute performance, as most of our individual - solo musical tributes can perform a solid hour+ performance of the star's they portray greatest hits... or maybe in the same flavor of classic Vegas a double star combo of "Dean Martin and "Tom Jones" together or similarly, having "John Lennon and Jim Morrison" together for a psychedelic 60's style show...it's very flexible! This also extends into creating your favorite triple-star or even quadruple-star show for an entire evening's entertainment!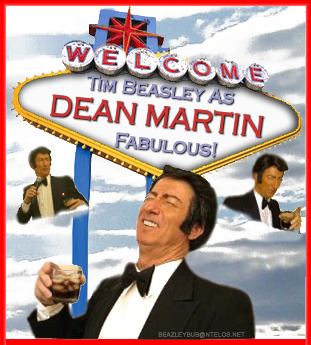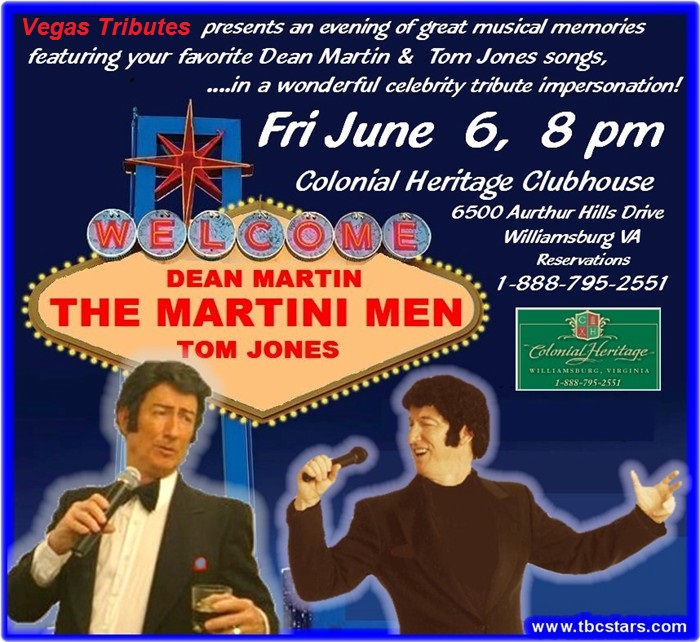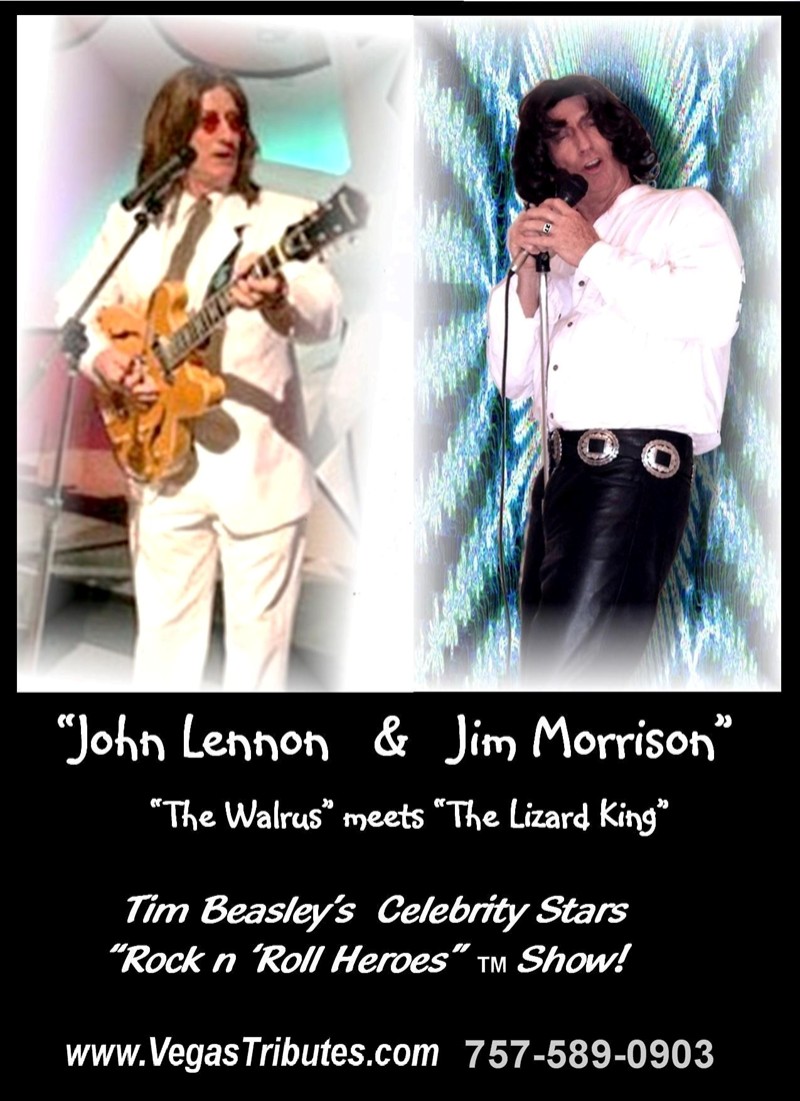 As a national "Las Vegas-style" show coast to coast, this one man, multi-stars performance is a very real entertainment value as this being a one-man show, only one plane fare, hotel room is needed.
Show is
actual live singing performances in the vocal impression of each Vegas Tribute
, and for each the look and feel is also implimented for a full impersonation of each. Vocals are mixed at the sound system with professional backing tracks to give the effect of a full, live big band accompanyment for recreating a legendary live concert performance!
The
professional sound equipment
needed for a great show in a smaller or medium-sized venue to entertain 35-300 guests is very basic, of about 1500 watts, and
can be provided in a drivable range
which is normally about a 350 mile radius from home base of Virginia Beach, VA. We also have the
professional theater lighting
and even
special effects lighting
to give a very sophisitcated look to the show. All equipment is top brand, and attractive in appearance, with a "Las Vegas" motif. As this is a one-man show, the performance is conveniently compact in stage area needs, so works well either on full stage or minimum of 8' X 10' but very high in visibility and feel. For engagements nationally, flying in for the engagement, we suggest the Audio / Video dept at hotels and resorts venues provide the set up for the show, or have a sound re-enforcement sub contractor or DJ company do this.
One of
Vegas Tributes
most popular and unique elements is the level of
fun audience interactions
. For certain songs, for example, "Dean Martin" might invite a lady or two or even three to join him onstage as honorary "Gold Diggers, " ala the beautiful chorus girls you may remember from his popular TV show. The gag begins when "Dean" also produces feather boas and glittering tiaras for extra "glaming up" as they saunter around him a bit during his song like "You're Nobody Till Somebody Loves You." This is done similarly for "Rod Stewart" to have the ladies join him for the crowd favorite "Hot Legs" song routine, or 'Tom Jones" classic "She's A Lady" and especially for "Frank Sinatra's 'Rockette's' chorus line for "New York, New York!" The cameras really come out on this fun feature and capture the fun!
All of our Vegas Tributes performances will also feature coming downstage to personally serenade for happy anniversaries, birthdays, newlyweds, bachelorette parties, going away parties, new job promotions, ...any celebration!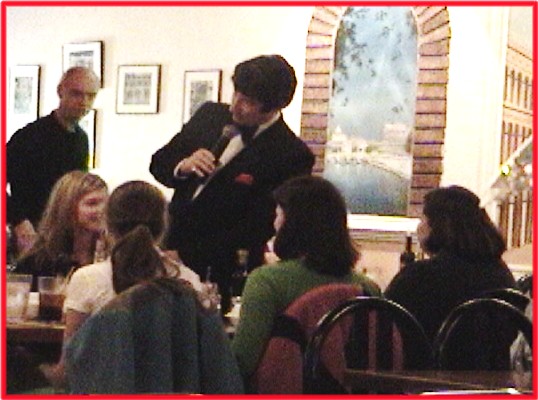 Also see more of Vegas Tributes variety of shows and entertainment offerings!

also
also
email : timobeasleystar@aol.com


Phone-Text 757-589-0903

Please Call, we love to talk, and you can Text, too!!!
Licensed and Insured since 1986


Be sure to see the videos on the "Multimedia" tab!
Celebrity, impersonator, tribute, look alike, impressionist, sound alike, actor, entertainer, emcee, national, Las Vegas, Hollywood, LA, Palm Springs, Reno, Lake Tahoe, Branson, Miami, NYC, Dallas, Atlanta, casinos, theaters, stages, festivals, cruises, comedy, music, rock n roll, pop music, glamor, party, reception, socials, country club, golf, yacht club, convention center, convention, grand openings PR, special events