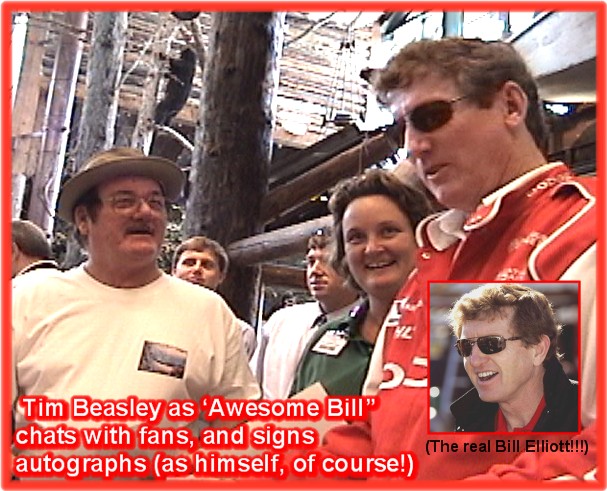 Tim appears as a Bill Elliott look alike impersonator for stock car racing theme events and promotions. For years fans have mistaken Tim for the real Bill Elliott, the stock car racing legend because he looks every bit like a twin brother to one of the favorite drivers of all time. With the same red hair, complexion, features and lanky build, Tim is practically a mirror image of the man they call Awesome Bill Elliott or Million Dollar Bill. Tim always shares a smile with the crowds who come to join him for chats and photographs to fool their stock car racing fans. Tim appears for corporation events, retail promotions, festivals and stock car racing fan gatherings.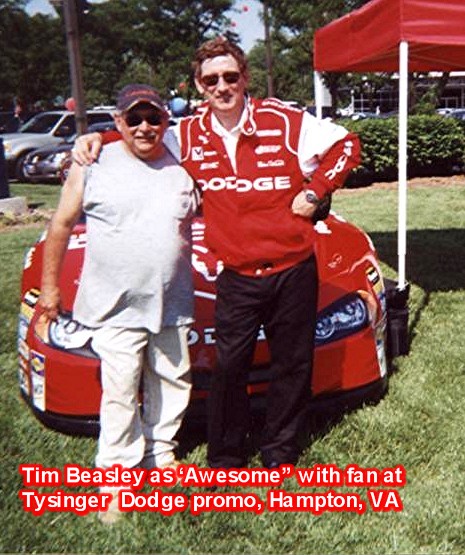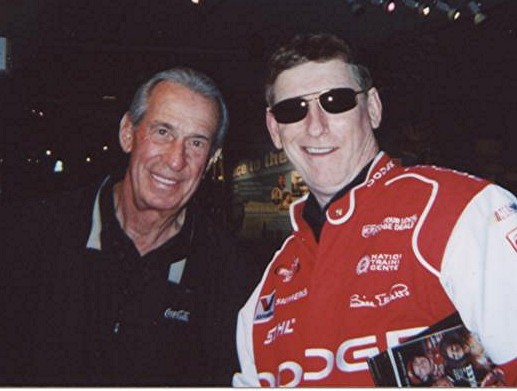 Tim appears at many NASCAR - flavored events...Here he is with legendary NASCAR champ Ned Jarrett at the premiere of 'NASCAR 3-D" at the Virginia Aeronautical Museum's IMAX Theater in Hampton ,VA.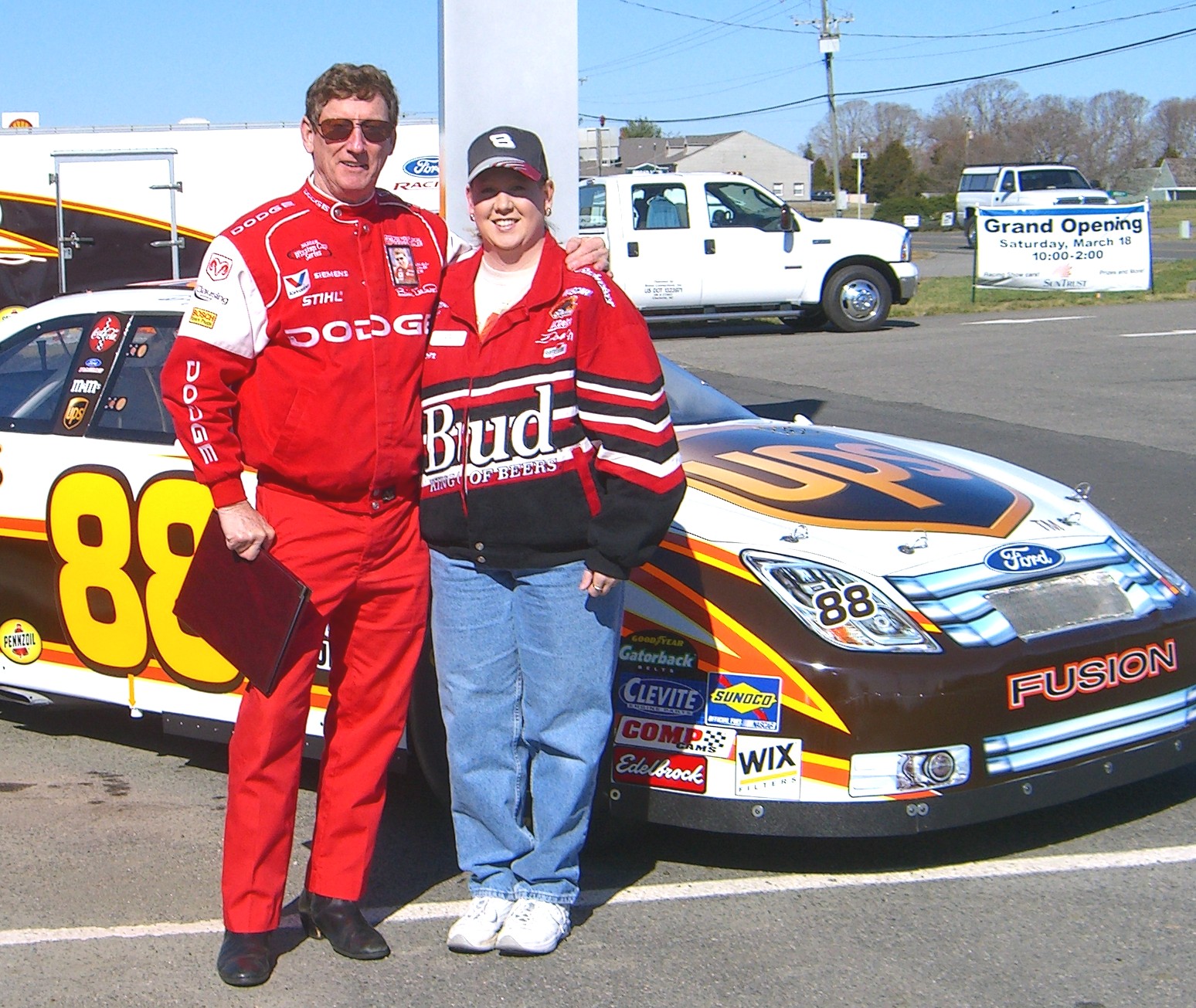 SunTrust Bank was the official bank of NASCAR when they engaged Tim to make a special "Awesome Bill" appearance at their Manakin-Sabot branch grand opening, very near Richmond International Raceway, Richmond, VA.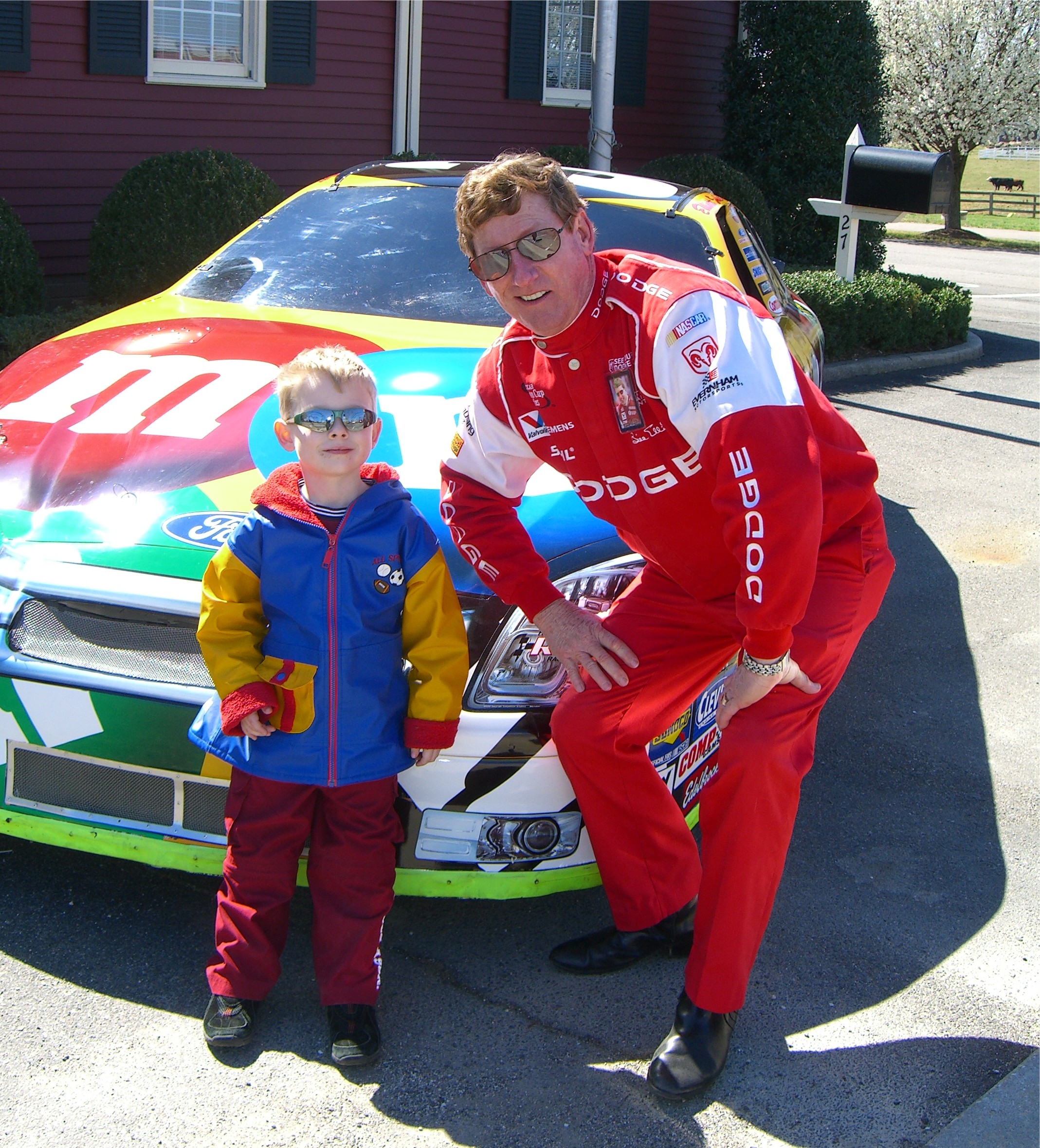 Events Include
NASCAR sponsor Nextel Daytona 500 Corporation Promo The Great American Food Fest Chesapeake, VA Tysinger Dodge NASCAR IMAX Theater Premiere Tysinger Dodge NASCAR #9 Dodge Simulator Exhibit Hampton Roads International Auto Show Special Guests Hall Virginia Beach Dodge Sales event & Outlaw 1490 Radio Remote
SunTrust Bank Branch Grand Opening, Richmond, VA
Performance Food Group "Food Show" Richmond International Raceway Exhibition Center

EMAIL : timobeasleystar@aol.com
Phone: 757-589-0903

Licensed And Insured Since 1986, a big "Bill Elliott" year!

Copyright © 2010 Tim Beasley's Celebrity Stars