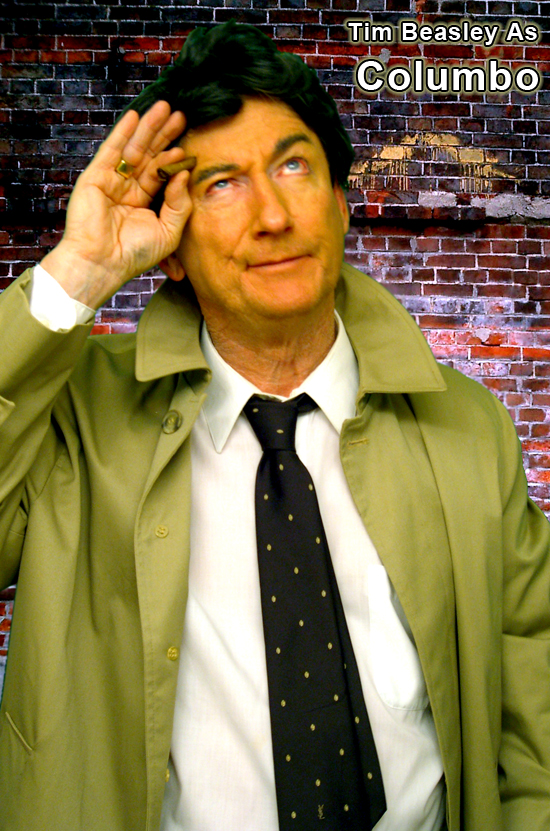 Detectives will always be a favorite "character" in fiction, be it books, movies, plays, or in the case of the lovable scruffy but ingenious "Lt. Columbo," TV. Peter Falk famously portrayed "Lieutenant Columbo," a Los Angeles police department homicide detective in the very popular NBC series.

National variety impersonator Tim Beasley performs in his unique and hilarious role as "Columbo." Tim, as your special guest "Columbo," adds a grand element of fun to corporate events, private parties and "Detective - Police" theme special events. If you're having a party celebration for a special someone, and you'd like to put them on a little bit ala a "roast," tell us "who" you'd like to "interrogate." For these, give "Columbo" a bit of fun history on the "suspect" before the event, and we'll custom write a great "crime" for everyone to have fun helping "Columbo" solve! Lots of laughs guaranteed!!!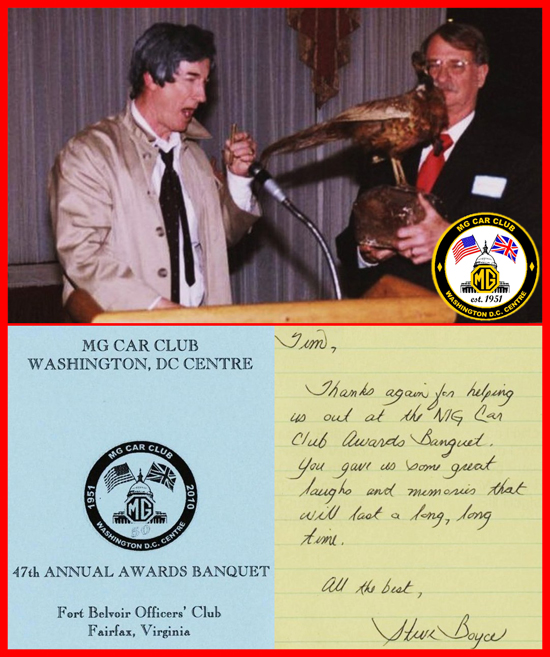 Tim Beasley as "Columbo" presents Dave Gillette his
MG Car Club group's coveted and hilarious inside joke "Morris Award"
after solving the "Case of the Missing Medallions"
Although disheveled, and seemingly slow-witted, your "Columbo" cooly sets up your guest with some incriminating evidence (again, you provide as many anecdotes and details as possible) about one of their most illustrious escapades, and "Columbo" will arrest them, but then ask audience if the law should look the other way and let them go. Typical skit is approx 5-15-30 minutes, and cameras always come out to capture the fun! Contact for details and more info at our contacts - e-mail - phone on this page……

Hire "Columbo" today for your special event…it'd be a "crime" not to!
EMAIL timobeasleystar@aol.com
CALL 757-589-0903
Please call, we love to talk "Falk" and yes, you can text, too!!!
Licensed and Insured since 1986
Columbo, impersonator, actor, impressionist, tribute, comedian, TV, detective, homicide, Peter Falk, Emmy, NBC, series, police, radio, comedy, entertainer, interactive, meet & greet, corporate, special event, paparazzi, photo opps, party, theme, rumpled, genius, investigator, LA, Hollywood, Beverly Hills, disheveled, brilliant, expert, crime, solver