"Dean Martin." Growing up in the mid-60's as a young teen fan of Dean Martin, Tim Beasley was a true first generation fan of the man they called "The King of Cool." On Thursday nights at 10 PM on NBC, Tim would delight in getting to stay up and watch "TV for grown-ups!" Tim knew this hour-show of Dean Martin's sophisticated fun, laughter, music and sometimes polite naughtiness was way beyond the usual garage band racket of other earlier evening shows catering to teens... Watching, listening and learning how Dean delivered those oh so smooth croons and leading man moves gave Tim a valuable skill in taking charge of any stage.

This show is assembled with all of the top Dino hits you'd expect, and delivered smooth and smokey, like a fine bourbon, and seasoned with those "winking" funnies in between the songs. Decked out in dapper tux, "Dino" is dressed to kill as they say, and fits glamor galas like a fine Italian leather glove!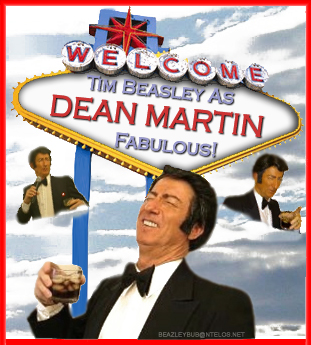 As a really fun performance with extra laughs for birthdays and other "recognition celebrations," you can have "Dean" do his famous "Dean Martin Celebrity Roast" on your "Man -or Woman of the Hour" just like on Dean's super hit TV shows of the 1970s. In this you collect funny bits about your special person and "Dean" will be sure the zingers get delivered in good humor and taste. The guests all have a good laugh along with the guest of honor, who by the way, should know that being "roasted" is indeed, an honor and a testiment to their good nature! (See more on this at page bottom)
Show is performed with Tim Beasley singing live vocals, in impression of Dean's voice and range, and also a visual impersonation in Dean's stage presense of similar build, hair and facial features accented. By the way, Tim just happens to be the very same-sized man as Dean, at 6' tall and 180 lbs, and in a sharp tux his appearance is stunningly realistic...audiences are heard to respond with "ooohs" and "aaahs" followed by resounding applause as "Dean" steps into the spotlight! Singing into a professional Shure brand microphone, the vocals are mixed with prerecorded "backing tracks" from a CD, or similar media to effect the sounds of being accompanied by a full orchestra, and reproduce the legendary live shows Dean Martin was known and loved for.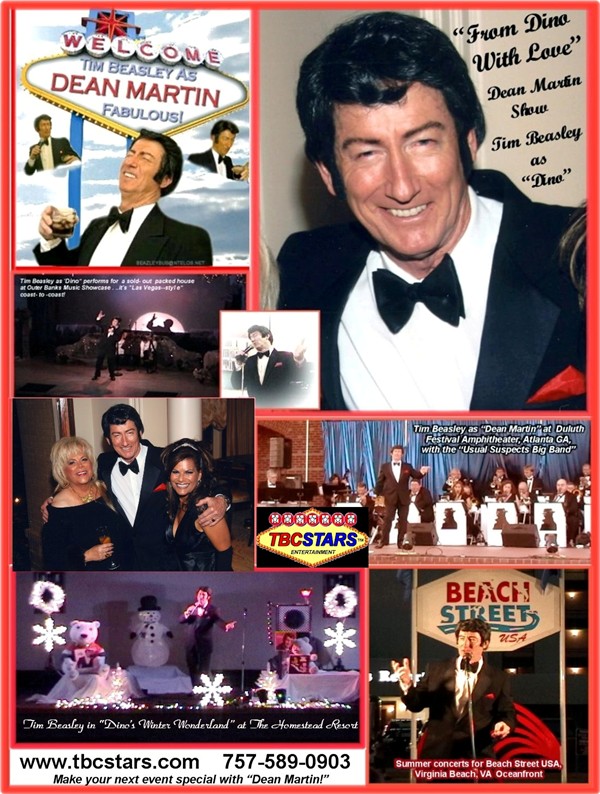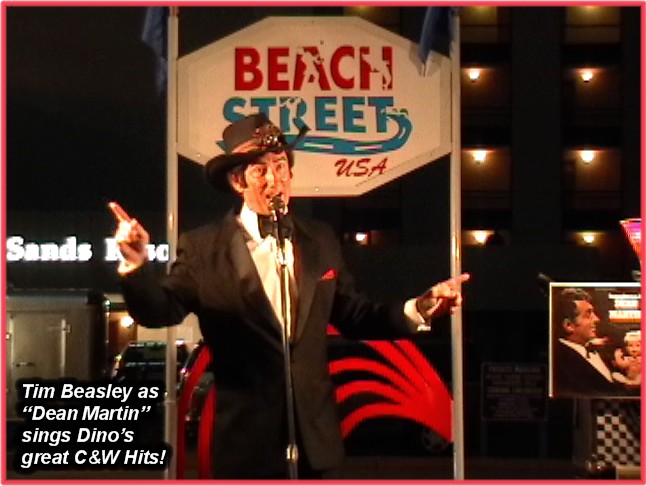 The professional sound equipment needed for a great show in a smaller or medium-sized venue to entertain 30-300 guests is very basic, of about 1000 watts, and can be provided in a drivable range which is normally about a 350 mile radius from Virginia Beach, VA. We also have the professional theater lighting and even special effects lighting to give a very sophisitcated look to the show. All equipment is top brand, and attractive in appearance with a "Las Vegas" motif. As this is a one-man show, the performance is conveniently compact in stage area needs, so works well either on full stage or minimum of 8' X 10' but very high in visibility and feel. For engagements nationally, flying in for the engagement, if the show is for an initimate party of up to 30 guests, we bring a portable professional sound system that works great for those, but a larger group, such as 30 -300 guests in a hotel ballroom or banquet hall, we suggest the Audio / Video dept at hotels and resorts venues provide the set up for the show, or have a sound re-enforcement sub contractor or DJ company do this with the types of equipment outlined.


SEE A VIDEO FLIP-BOOK AND HEAR OUR DEAN SING "IN THE MISTY MOONLIGHT!!!
https://www.facebook.com/576874558/videos/10159050298539559/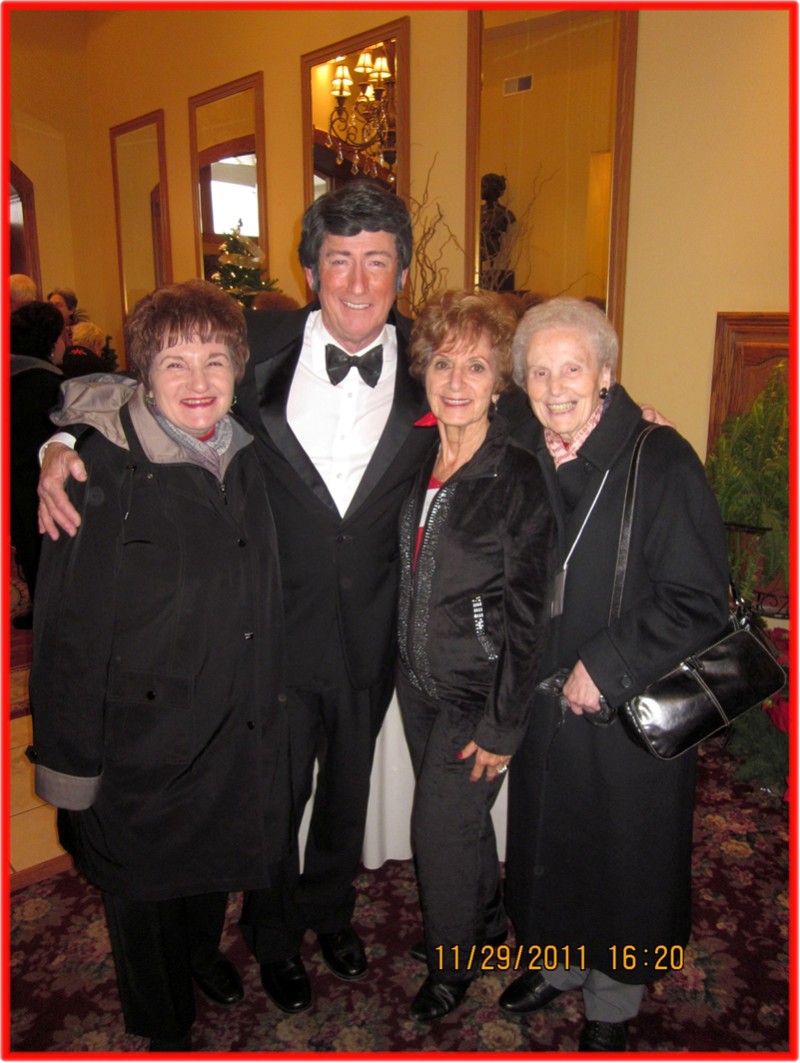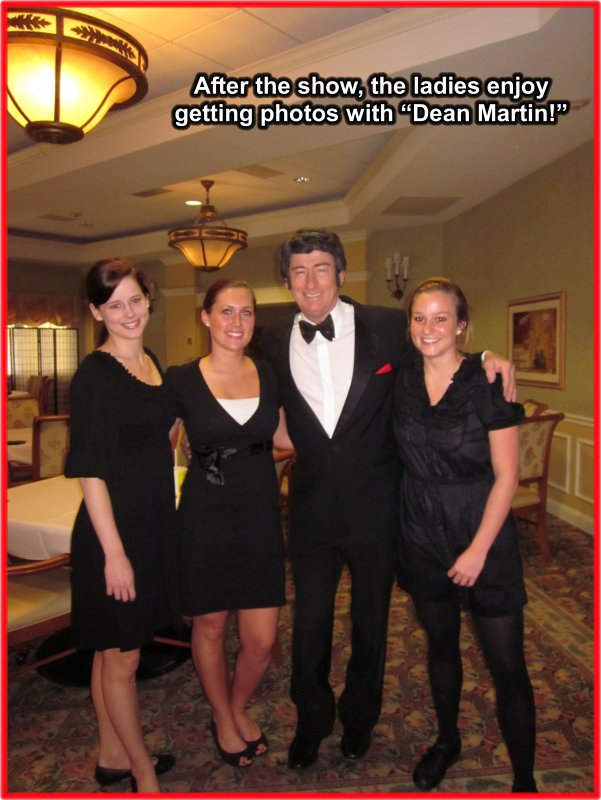 Songs performed include hits throughout Dean Martin's career of early 50's through the mid 80's.

They include:
"Everybody Loves Somebody Sometime"

"Ain't That A Kick In The Head"

"Memories Are Made Of These"

"In The Chapel In The Moonlight"
"In The Misty Moonlight"

"Mambo Italiano"
"That's Amore'"

"Just In Time"
"Return To Me"

"Volare'

"I Will"

"Sway"

"Houston"

"Little Ole Wine Drinker Me"



...and how about having twice the music & comedy fun!!!