Donald Trump Impersonator Tribute Appearances Nationally


Billionaire Donald Trump is recognized world-wide from his smash hit reality-TV shows

"The Apprentice" and "Celebrity Apprentice." ...and now with the BIG NEWS of

his run for Presidency, he's legendary in his own time!!!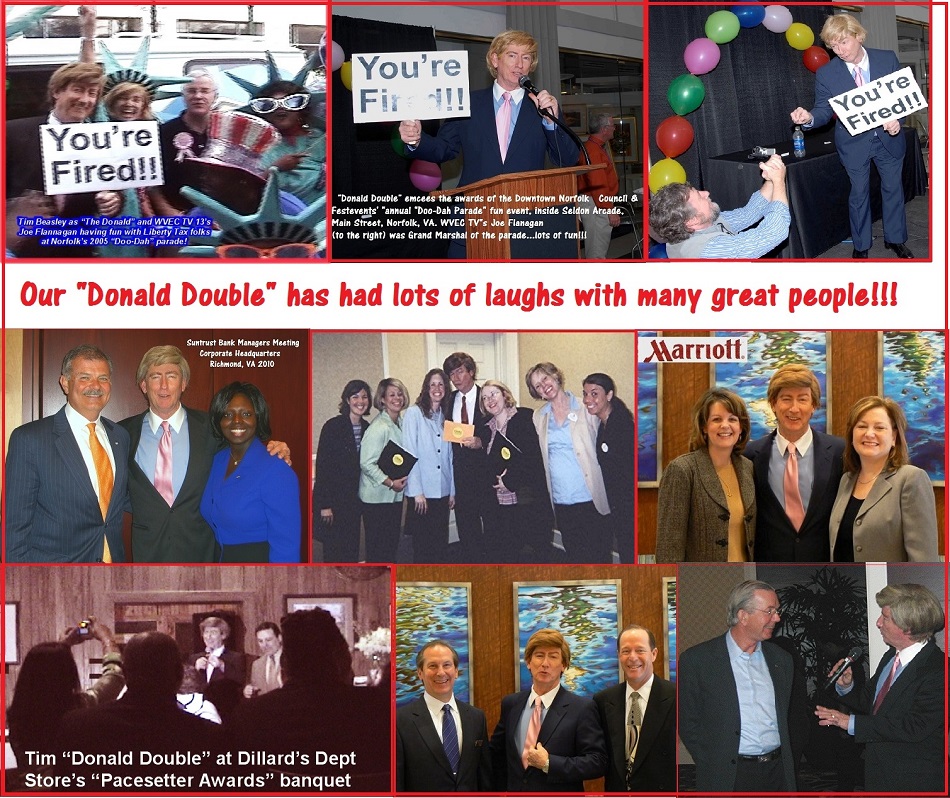 See fun video here:
"Donald has a talk with an employee."..
https://www.youtube.com/watch?v=_z_hMGR0-NY
If you liked that one, here's another!
"Donald wants to offer you a 'ground level' deal!"
https://www.youtube.com/watch?v=ZcqDiTublYw

Since 2004, Tim Beasley has performed professionally in his Donald Trump look, sound, act alike impersonation for recreating that kind of "Trump" excitement and paparazzi fun for many special events and is a "huge hit" at trade shows, "Apprentice"- style game shows and other corporate gatherings. Plus, look for him as a Donald Trump look alike in TV commercials and retail promotions, too!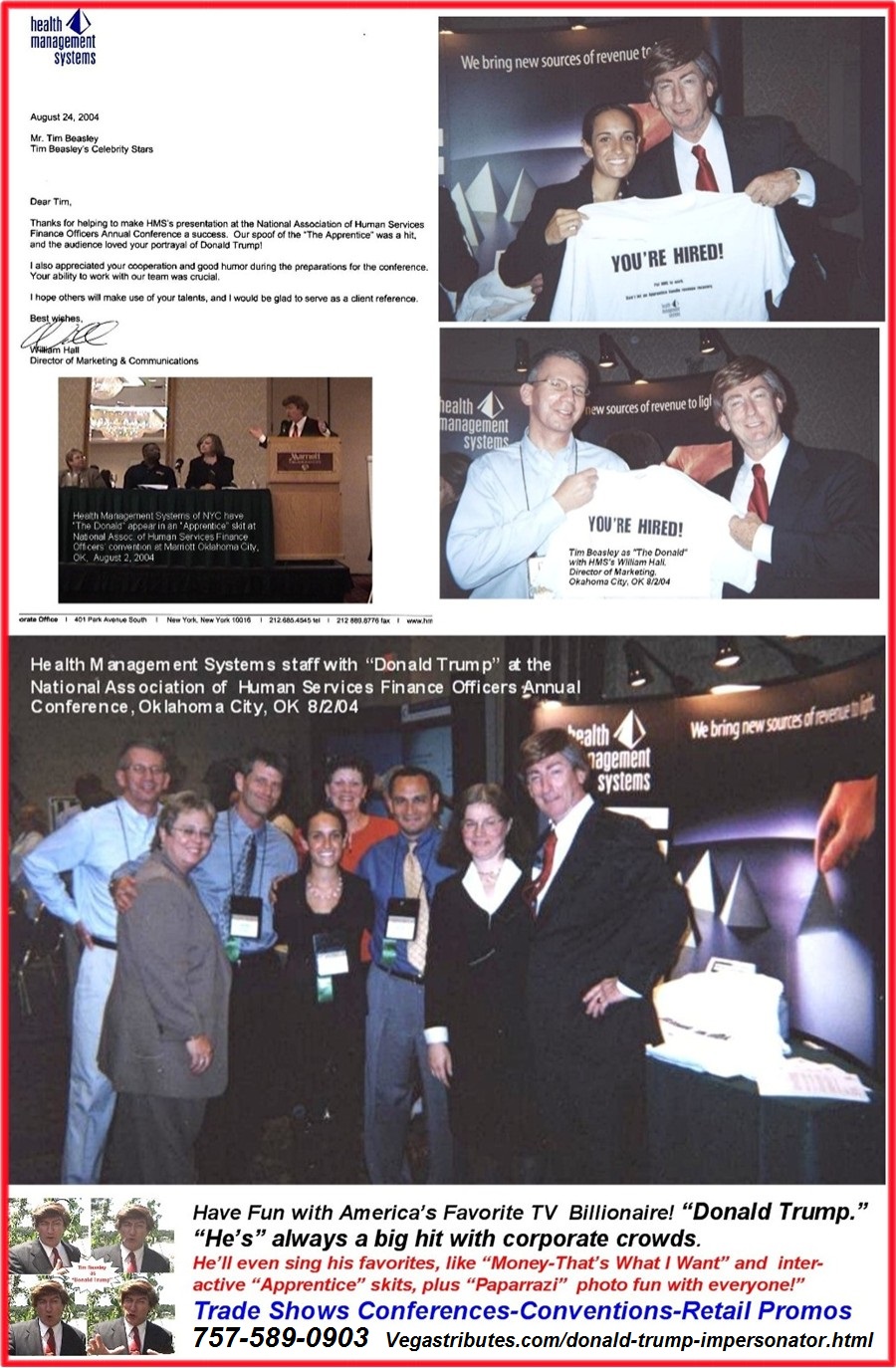 Guests have a ball getting "paparazzi photos" with him, and he also makes a great Master of Ceremonies for any occasion.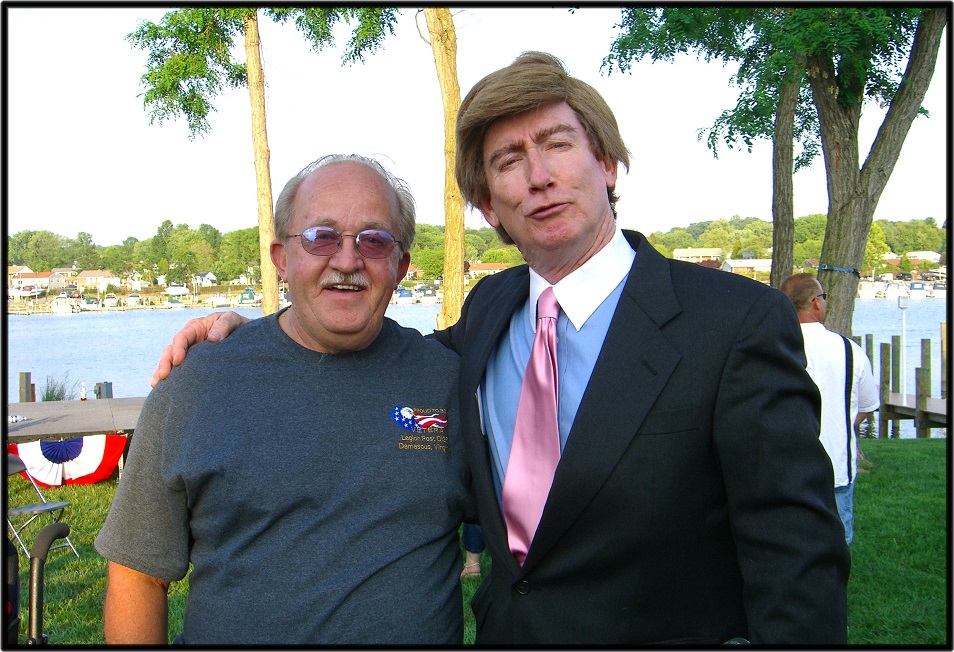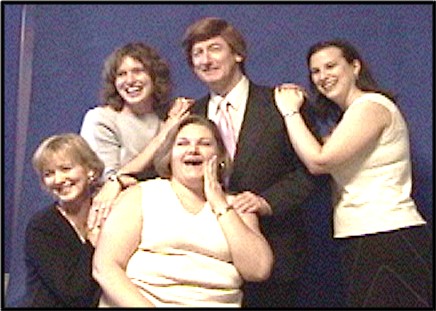 Tim as "The Donald, Donald Trump" will add a billionaire-sized fun value to your next event!

"The Donald with FOX Richmond GM Bill Lane for FOX TV Fall Premiere Night"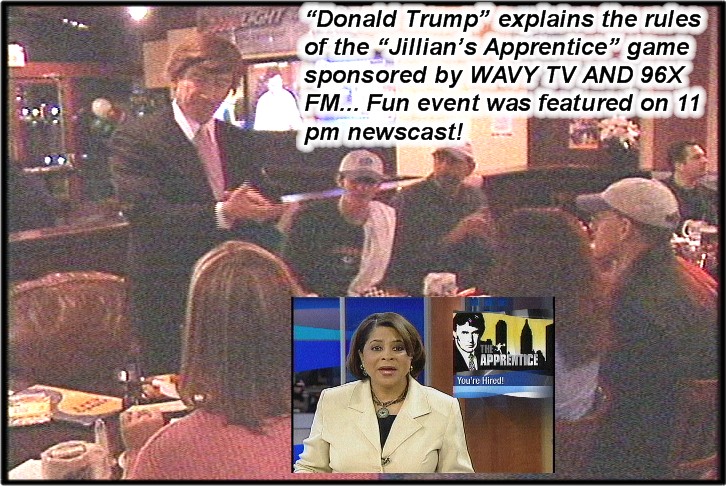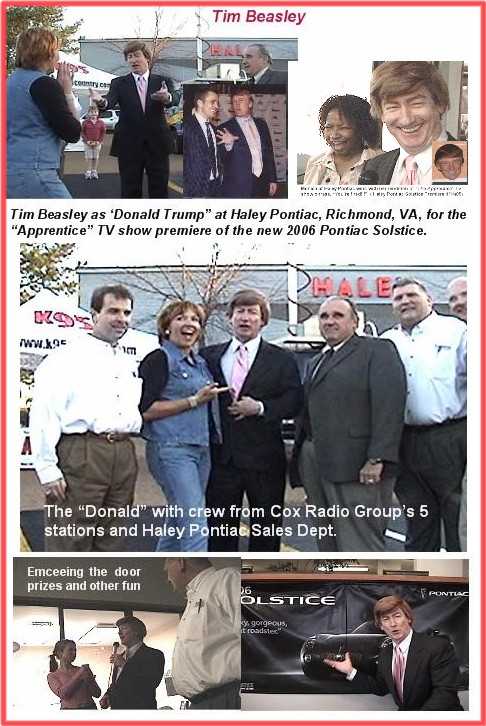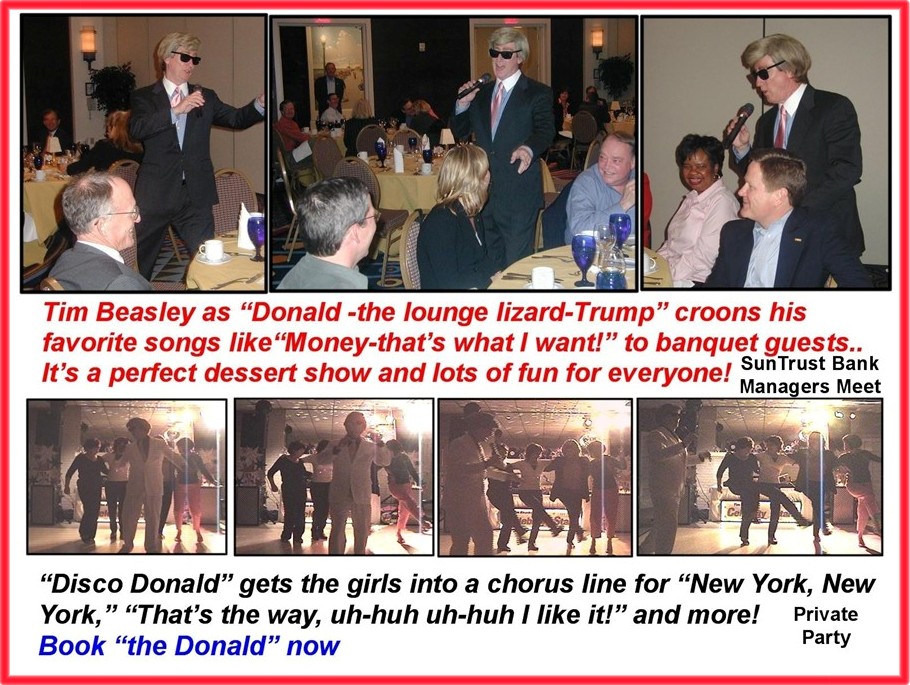 Events Include

Fox TV Richmond, VA

Marriott Hotel promo at VSAE annual meeting

Apprentice Pontiac Solstice Party at Haley Pontiac - GMC Richmond, VA

Everyday Lending Mortgage Star Awards

Dillard's Stores "Pacesetter Awards" Banquet

Health Management Systems Of NYC

Elliott Equipment Company Of Omaha, NE

Camp Towanda Pocono's, PA

Auto Showcase Luxury Cars grand opening, Towson, MD

SunTrust Bank Corporate Manager's Conference Hilton Resort and also their Headquarters Meeting central region

Maryland Recycling Corp Picnic Party, Towson, Md.

"Apprentice Challenge Game" at Jillian's Entertainment Complex, with

TV & Radio Sponsorship, news

TV Commercial for "Echoes of Time " Costuming and Vintage Clothing Retailer


Norfolk Festevents "Co-Celebrity Grand Marshal with WVEC TV Joe Flanagan for downtown 'Doo- Dah Parade'

Biggs Cadillac Buick GMC "Super Sales Events." Elizabeth City, NC

And Many Others!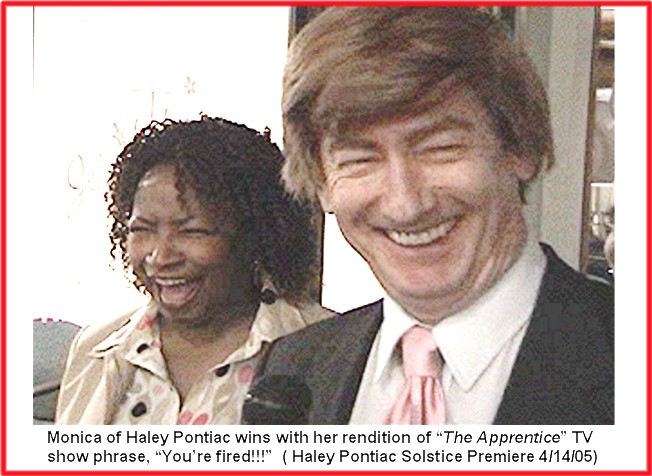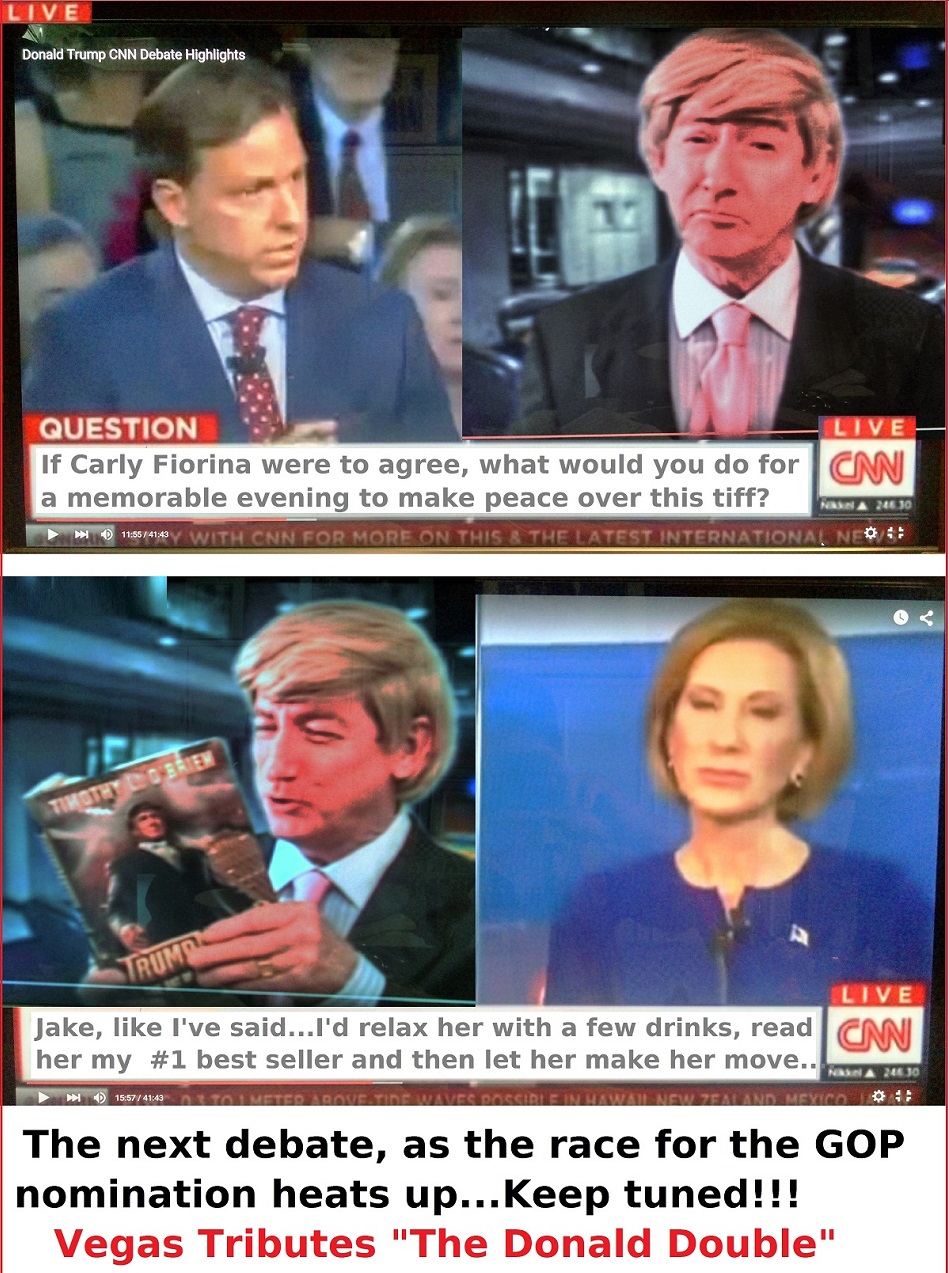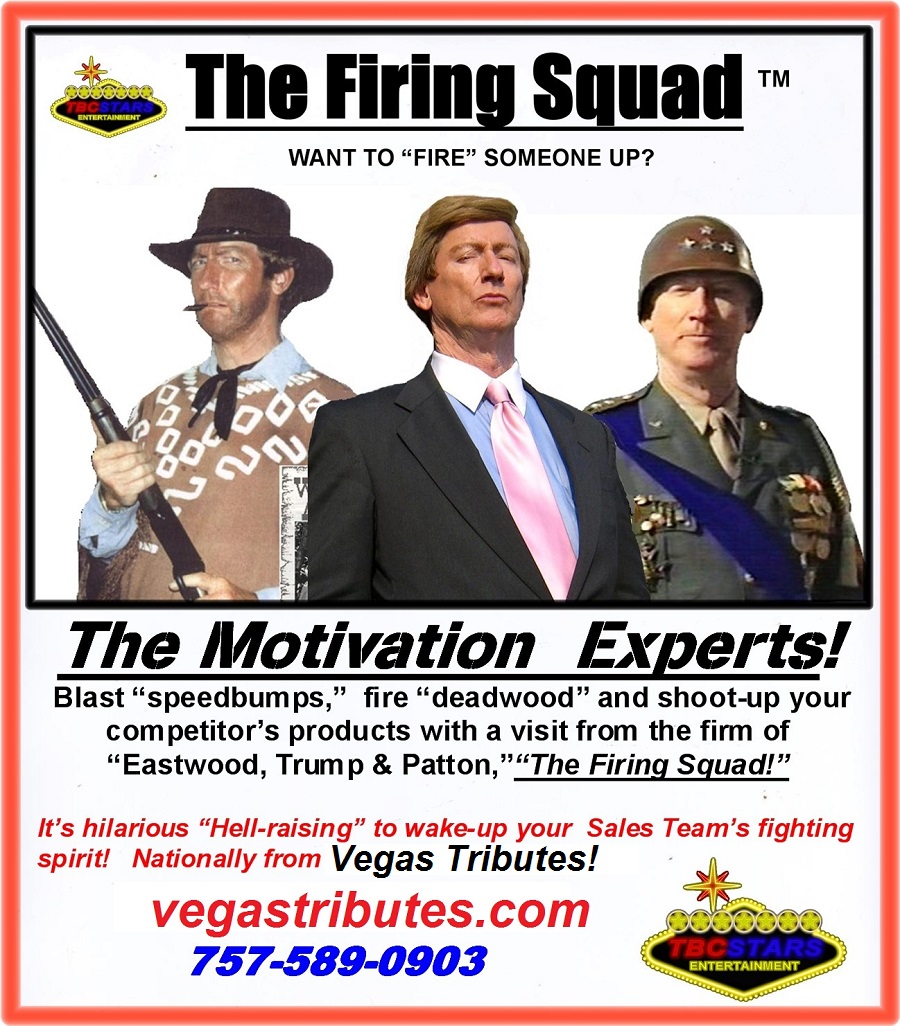 E-MAIL timobeasleystar@aol.com

PHONE - TEXT 757-589-0903
Please call, just like "The Donald," we love to talk!

Licensed And Insured since 1986

Copyright © 2010 Tim Beasley's Celebrity Stars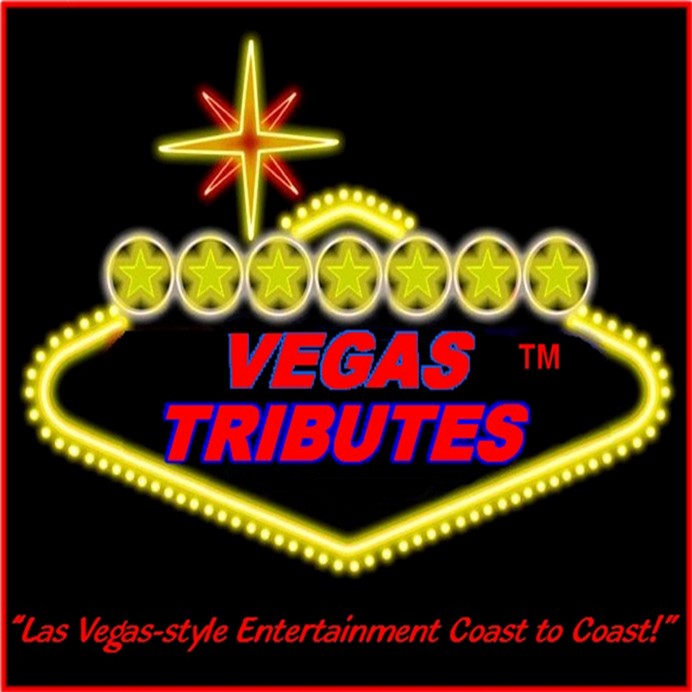 Donald Trump, impersonator, look alike, actor, entertainer, impressionist, mimic, New York City, Hollywood, Las Vegas, Palm Springs, Atlantic City, Miami, Los Angeles, billionaire, money, power, success, paparazzi, party, special event, comedian, emcee, MC, corporate, public relations, promotions, special appearances, popular, celebrity, posh, high life, rich, gold, jet set, fabulous, famous, attraction, penthouse, casino, resort, resorts, golf courses, real estate, banking, finance, jobs, retail, exotic, palace, politics, Republican, president, contender, candidate, popular, Atlantic City, Mar Lago, Reno, Lake Tahoe, lifestyle, helicopter, yacht, yacht club, polo, diamonds, bank, wealthy, spokesperson, game show, trade show, product release, publicity, publicity stunt, paparazzi, limousine, private jet,