VEGAS TRIBUTES PRESENTS
"VEGAS JANE, THE TORCH SINGING DAME!!!" TM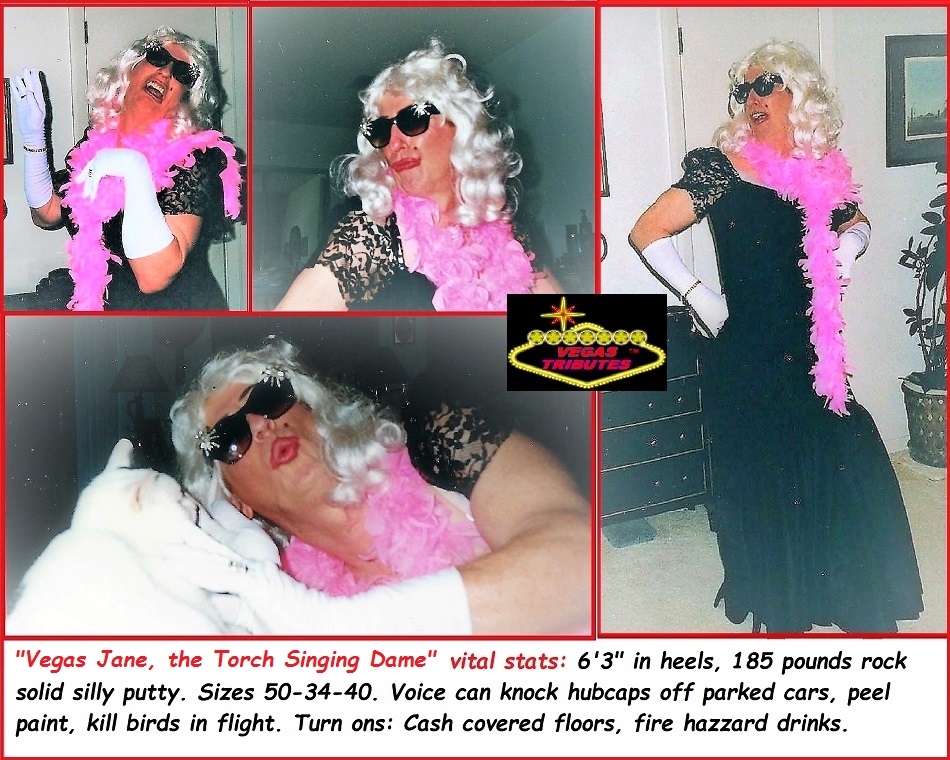 Copyright 2017 Tim Beasley
Tim Beasley of Vegas Tributes is a career national entertainer, actor, comedian and singer now for over 31 years, licensed and insured. Being a very wide-range entertainer in the variety musical and comedy tributes entertainment, his signature performances include the very manly "Frank Sinatra, Dean Martin, Tony Bennett, Bobby Darin, Rod Stewart, Neil Diamond, Billy Joel, Tom Jones, Kenny Rogers, Willie Nelson, Bob Seger, Jerry Lee Lewis, Buddy Holly, Roy Orbison and John Lennon."
He also created a "most unusual drag queen" with his hot and hilarious humongous huzzy routine, "Vegas Jane, The Torch Singing Dame!" TM
Let me explain…he's totally hetero and plays this for loads of laughs ala Tom Hanks (remember his show, "Bosom Buddies?") Milton Berle, Jim Carrie, Patrick Swayze. Oh yeah, he's hetero all the way, loves the ladies, but that gives him the unique comedy twist.... Remember the late great Flip Wilson and his "Geraldine ' The Devil Made Me Do It' Jones?" ...What about that other late great TV comic, Harvey Korman and his Big Bad Madame character on "The Carol Burnett Show?" Even the "king of latenight," the legendary Johnny Carson had fun as a wild west Saloon Girl in his "Mighty Carson Art Players" skits...and who could ever forget those leading men Jack Lemmon and Tony Curtis in that all-time movie classic with Marilyn Monroe, "Some Like It Hot."
Well then, just imagine blending Jane Mansfield with Frank, or Billy, or Rod, Kenny or Tom!!! ...and believe me, to the amazement of "her" audiences, "Vegas Jane" can hit those fracturing feminine falsettos, sexy stratospheric sopranos, and also those booming baritones and bravado basso profundos, too!!!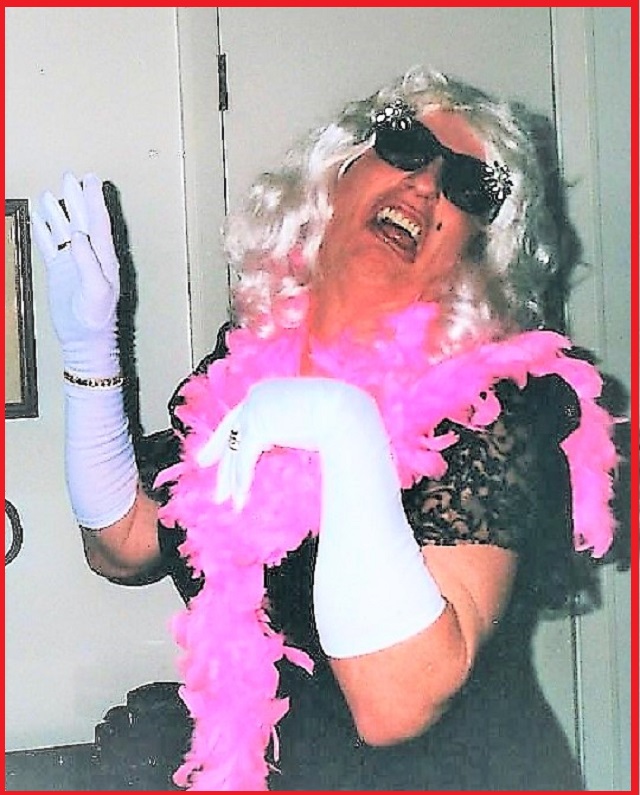 How did Tim get started in this fun feme-fatale' foolishness??? A large metro hospital, Sentara Virginia Beach General, asked him some years ago to get them "a rotund female singer for a when the fat lady sings" special event…He told them, "Oh sure, like I'm gonna tell some big woman they want her for a "when the fat lady sings" job…are you crazy??? I'll probably end up as a new patient in the E.R.!!!"
Being a career professional, licensed and insured with all of the other costs of running an entertainment business, and not wanting to lose good show business with the hospital, Tim suggested he could create a "wild and wacky dame" to fill the bill (and party gown!!!). Going shopping, he found the huge black satin and lace party gown, blonde bombshell wig, big long gloves, accessories, and some padding to build up his ...er, derriere! With a bit of god-awful gaudy lipstick and makeup applied by his lady, he became "Vegas Jane!"
Tim has created many unique "celebrities" over the years for clients requesting certain stars for their themed events, such as his "Humphrey Bogart-Rick Blane from Casablanca," "Groucho Marx," "Clint Eastwood" and "General Patton" for 4 years of the annual Chesapeake General Hospital's fund raiser gala. Knowing Tim was a top professional vocalist, a comedian and an Emcee, from other public events, Sentara gave him his first "Vegas Jane, the Torch Singing Dame" TM engagement…and Tim liked the challenge...and what a wacky fun blast!!! The audience of Sentara hospital officials loved it!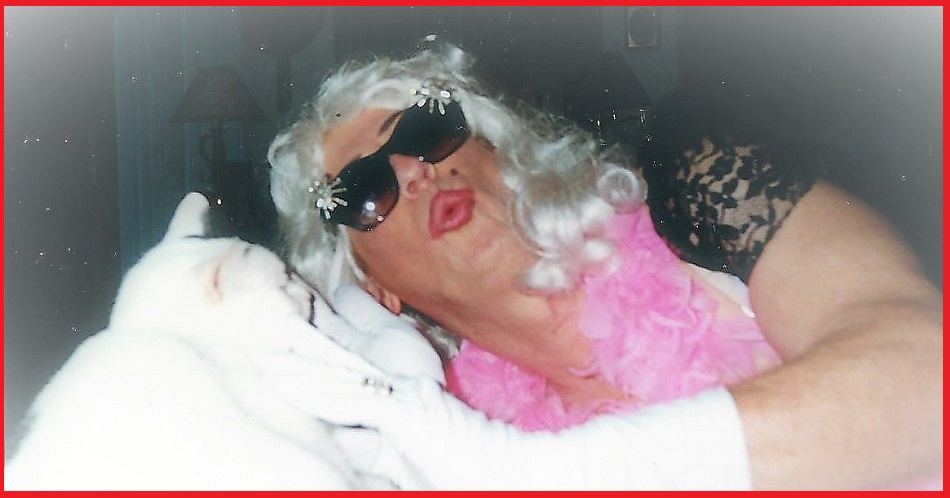 With such a wide-range voice, Tim perfected such "diva" songs as Aretha Franklin's "Respect," Tina Turner's "Proud Mary," Alicia Bridges' "I Love The Nightlife," Peggy Lee's "Fever," Madonna's "Like A Virgin," the Pointer Sisters' "Fire" and more hot and sizzlin' torch songs!!!
His largest audience was 750+ Red Hat Ladies at their statewide convention at the Greenville Hilton Hotel, Greenville, NC, and he also performed as hot and hunky "Dean Martin" as the opening act, and "Tom Jones" as the coffee & desert show! "Tom" dedicated his first song to "Vegas Jane." What song? Why, "She's A Lady" of course!!!
Those girls loved it!
When the spotlight opens on "Vegas Jane, the Torch Singing Dame" you'll hear the gasps, the laughs, the screams of delight, as ladies just adore this kinky-kooky-kool muscled-up macho-woman, at well over 6' 3" ft in heels and 185 lbs of singing, swinging silly putty!

Bookings Nationally-Internationally

757-589-0903

timobeasleystar@aol.com
Licensed and Insured Since 1986
"Las Vegas-style Entertainment Coast to Coast!"
Actor, entertainer, impressionist, impersonator, tribute, drag queen, comedy, comedian, Hollywood, Las Vegas, Reno, Atlantic City, Palm Springs, Lake Tahoe, Miami, New York City, New Orleans, Honolulu, Atlanta, LA, Phoenix