Elvis Presley Tribute Impersonator Show

Elvis impersonator Tim Beasley is a career entertainer for over 30 years as a look-alike, sound-alike, act-alike fun-filled double of the King himself! (Also 95+ others!...very bad case of multiple personality disorder!) His career actually began in the 1970's performing a variety of impersonations and "characters" in stand-up comedy routines, but his very first "Elvis" public performance was for the Grand Reopening of the Sheraton Hotel Airport / Military Circle, in Norfolk, VA, Jan 8, 1986!
Since then, he's had thousands of performances for retail promotions, corporate events, music festivals, fundraisers, theater shows and special events for country clubs, cruises, conventions, casinos and many, many hundreds of performances for weddings, anniversaries, birthdays and other special celebrations!!!
Recent 2017 - 2018 - 2019 performances

Yes, there are thousands of Elvis impersonators to choose from…most of these are only part-time amateur performers, your neighbor's brother-in-law, the guy who works at the grocery store, etc., etc., and of course there are many professionals proclaiming to be the best. ( Elvis himself was far more humble! ) Tim admits he's not the world's best Elvis impersonator, but he'll have the ladies in that room dancing on the table tops quicker than you can say "A–hunka-hunka burnin' love!"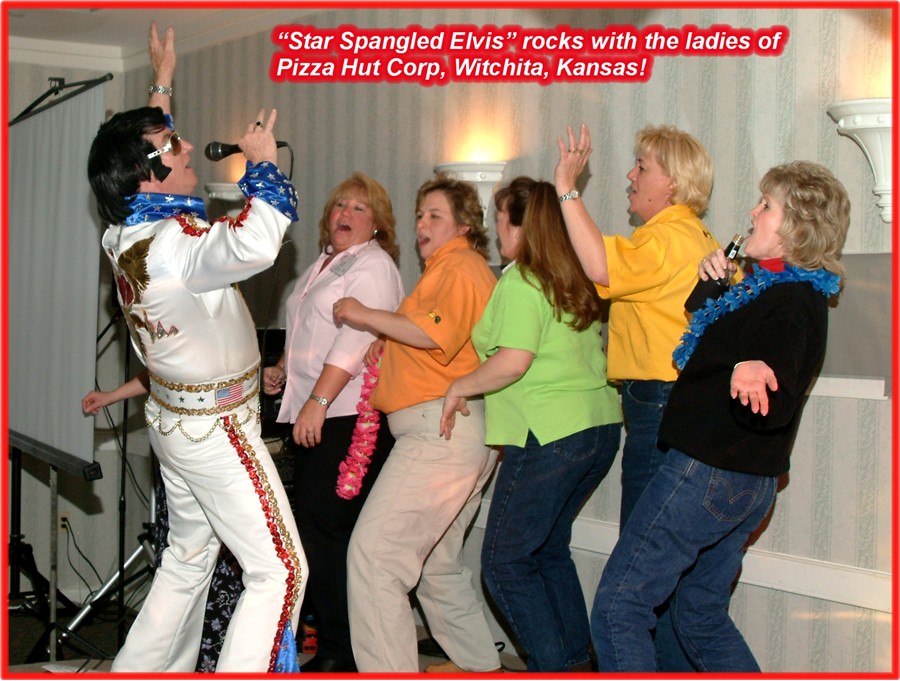 Tim's unique talents to breath real life into being an Elvis impersonator really bring out the terms "look alike" "sound alike" to his recreation of the legendary live Elvis performances. Tim as Elvis Presley has that "Big E" magic on the stage with him every time and he's "all shook up" about the love his audiences give back!
VIDEOS HERE!
https://www.youtube.com/watch?v=jIGnQhS_cwk
https://www.youtube.com/watch?v=VjcPu5RRaFo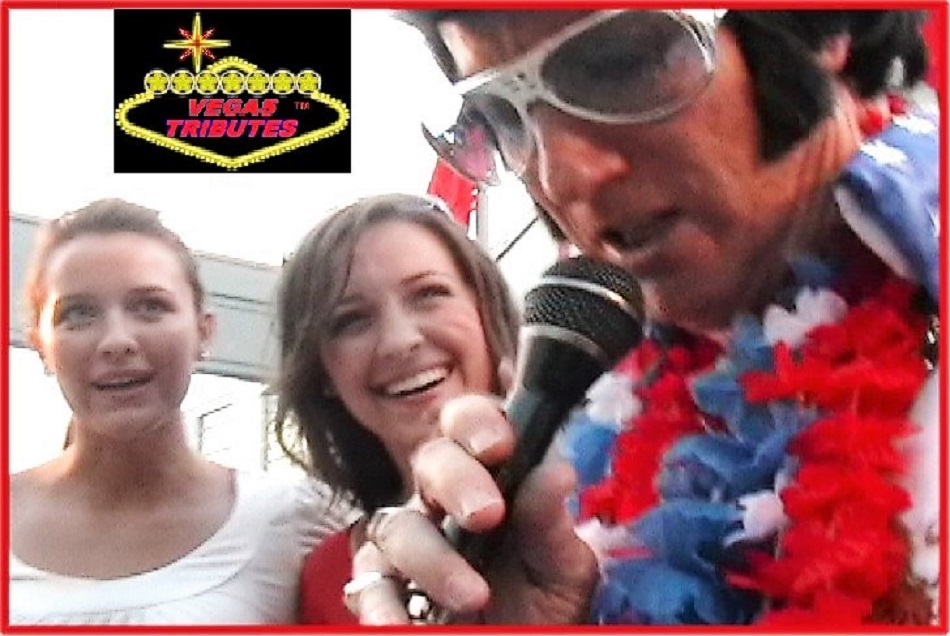 Tim's Elvis impersonation is professionally known as "Star Spangled King" TM and Tim takes on the spirit of Elvis with his fabulous custom made one-of-a kind Vegas-style white satin jumpsuit. Its design was inspired in tribute to the beauty of Old Glory, emblazoned with the Stars and Stripes and a blue field of diamond stars. The American Bald Eagle flies proudly on the back and chest panels, too!



He also sports those cool 50's - 60's style jackets, white buck shoes and Hollywood fashion shirts and slacks for those great flashback performances when "Rock n Roll" was here to stay!



Performances include events such as Grand Openings, Theatre Shows, Festival Stages, even private celebrations like birthdays, weddings and anniversaries! Hawaiian Luau's, "Fun In Acupulco" parties for Cinco de Mayo, any time!!!
Weddings are extra romantic with "Star Spangled King" singing
his great hit, "Can't Help Falling In Love With You."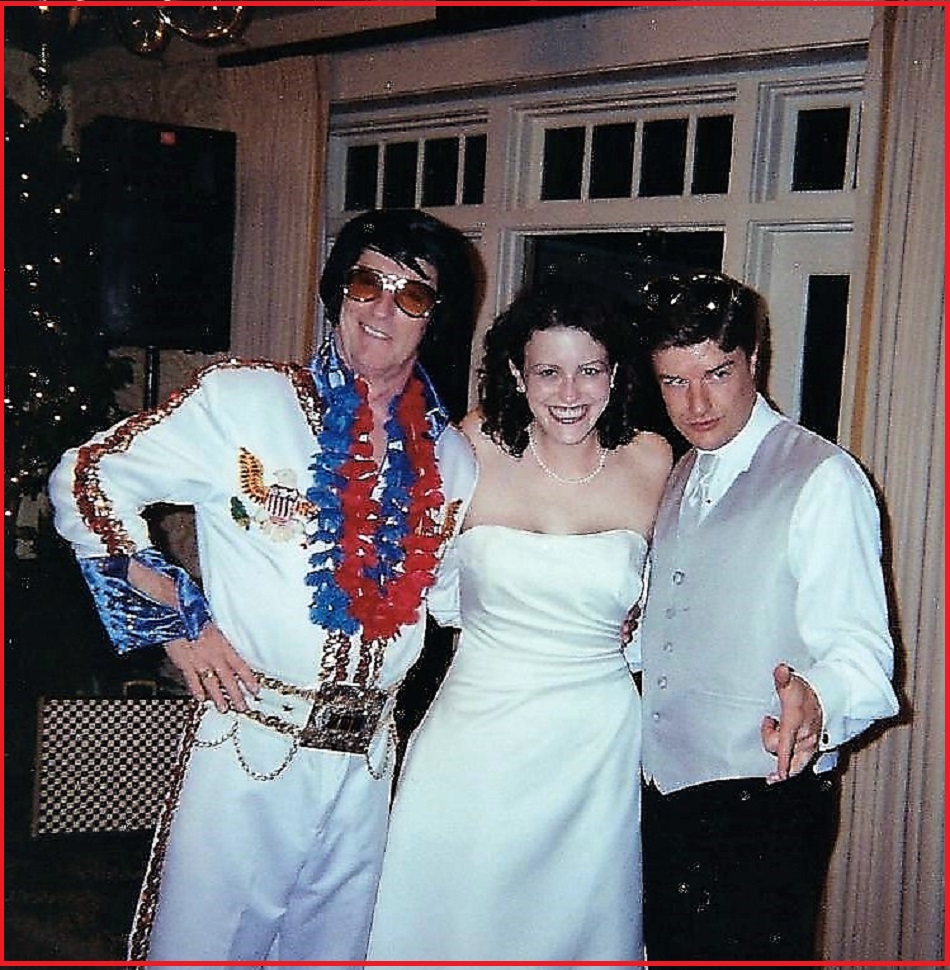 Tim's shows can begin with his look and songs as young Elvis. Singing great Elvis songs of the 50's and 60's and even Elvis' movie soundtracks, returning later for a second set in a tribute to the Las Vegas and 70's era of Elvis in the iconic white jump suit!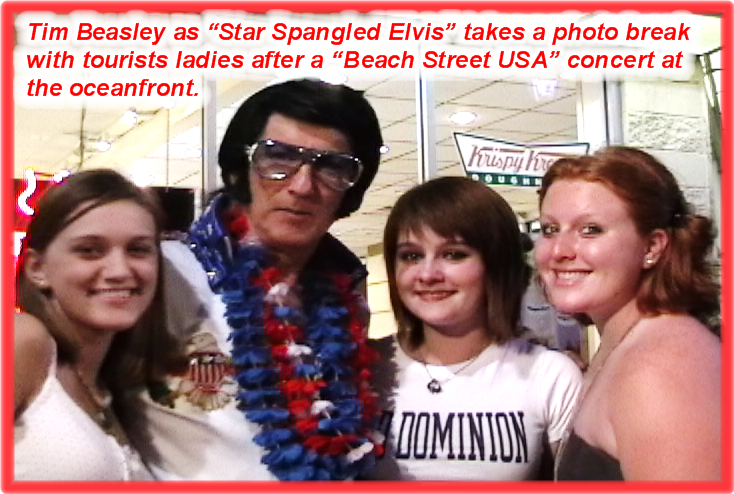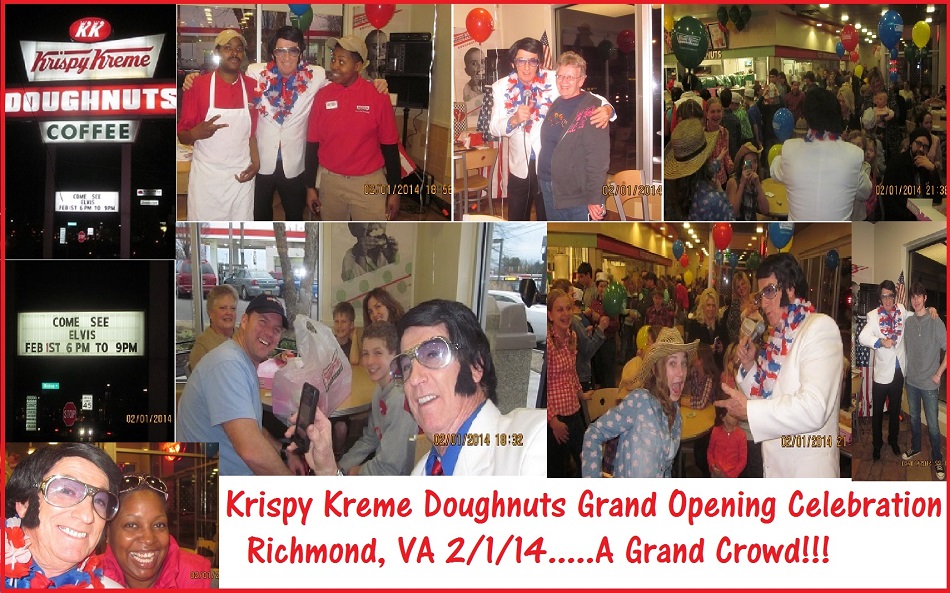 Clients include:
Walmart
Southwest Airlines

Army-Airforce Exchange Service
Navy Exchange Service
Cadillac - Buick - GMC - Ford - Dodge - Pontiac
Sysco Food Service
Aramark
Sedexo

McDonald's
Pizza Hut
Krispy Kreme Doughnuts

Exxon
Sprint
Pepsi
Coke
Kings Mill
SunTrust Bank
Liberty Tax Service
Hooters
Sandler Foods
Old Dominion University
Kings Dominion
WLTY FM 95.7
WWDE FM 103
Medical College of Virginia
Medical Society of Virginia
Wild Water Rapids
City of Virginia Beach Beach Events
City of Virginia Beach Parks and Recreation

Norfolk Waterside
Norfolk Harborfest
Norfolk Festevents
Norfolk Collegiate Fund Raiser
John Tyler Community College Fund Raiser
Knuckles Farm Elementary Fund Raiser
Kilmarnock VA Museum Fundraiser
Chrysler Museum Benefactors Ball

Museum of Contempory Art, Virginia Beach

USN Truman Battle Group
USN Eisenhower Battle Group
US Army Fort Eustis Super Day
US Navy Spring Blast Norfolk Naval Base
Western Auto 200 Race Langley Speedway

American Heart Association
American Lung Association
American Cancer Society
March of Dimes
........many, many, many more special events, weddings, anniversaries, birthdays, celebrations of all kinds!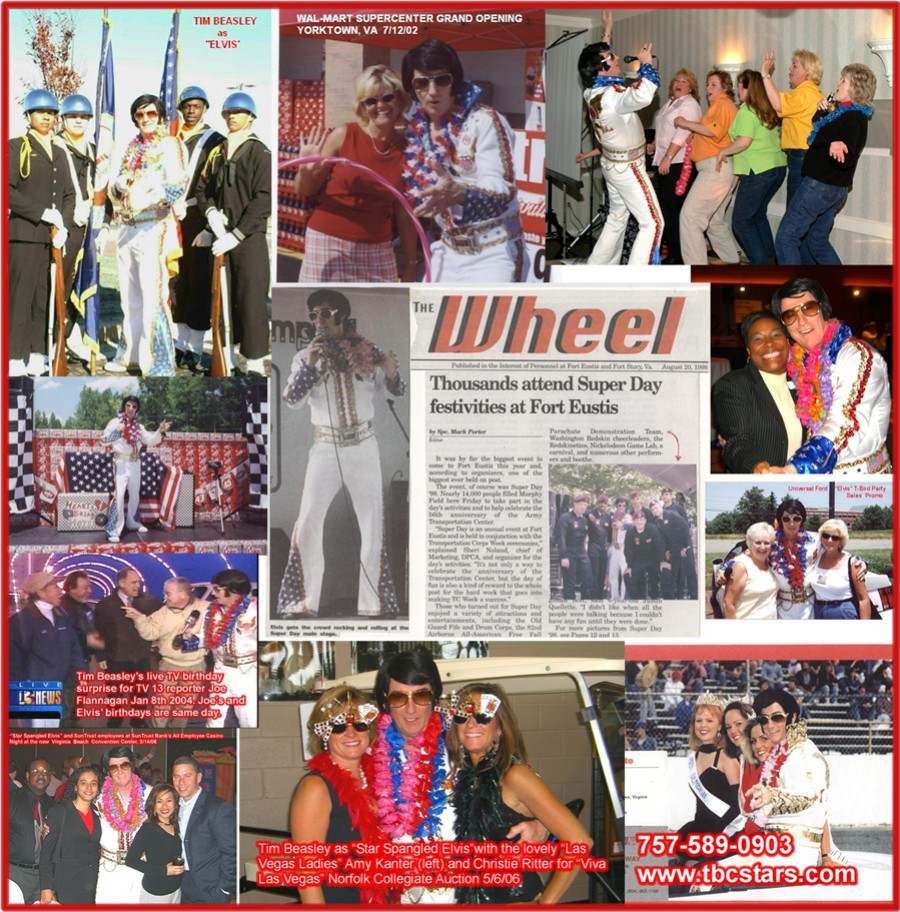 phone or text 757-589-0903
Please call, we love to talk!
Licensed and insured since 1986.
Elvis, Elvis impersonator, tribute, actor, entertainer, Memphis, Las Vegas, Hollywood, Maui, Honolulu, Miami, Palm Springs, Atlanta, Houston, Phoenix, Los Angeles, star, music, party, corporate, party, festival, celebration