General Patton Impersonator Tribute Performances Nationally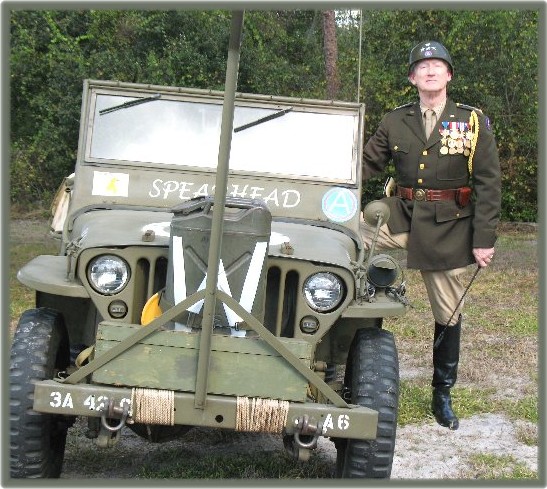 Tim Beasley as "General Patton"
AT-TEN-TION!!! Businesses, sales and marketing and professional organizations, any group striving for new goals.....
"Accept The Challenges!!!"
Want to give your "troops" some "heavy metal" firepower and courageous "home of the brave" fighting spirit to roll over the trenches and smash down the fortifications of obstacles to success???? General Patton is the man!

Tim Beasley has performed for over 25 years as an authentic and truly accurate General Patton look alike and speaker for many formal military bases and patriotic events as well as having huge troop-loads of fun by spicing up many "Red White and Blue" sales promotions. His very believable impersonation of "Old Blood and Guts" as a motivational speaking special guest is a highly recognized leadership icon, combining powerful positive thinking with American pride!
Tim enjoys portraying General Patton for a wide variety of national clients, adding "stars & stripes" attitude to companies, brand name products and services and corporations of all manners of business. Many Fortune 500 corporations have Tim appear as "General Patton" to excite and motivate their sales teams to out-think, out-manuever and out-perform their competitors in a rousing, cheer-provoking pep-rally of "Let's Win The Battle Of The Marketplace!"
Also as a national FOUR STAR MOTIVATIONAL - INSPIRATIONAL - EDUCATIONAL SPEAKER, many appearances are for professional groups and associations such as "first responders" Fire Chiefs, EMS, Police and Sheriffs Associations, for generating progressive and positive thinking, self improvement, confidence, teamwork and achievement in a program titled "Accept The Challenges!" Educational values for Public and Private Schools, Universities and Foundations.
See the list and also examples of these many successful speaking and appearance engagements.
Here with "FDR" and Lt. General Michael Flynn at the Museum of American Armor gala, 11/16/16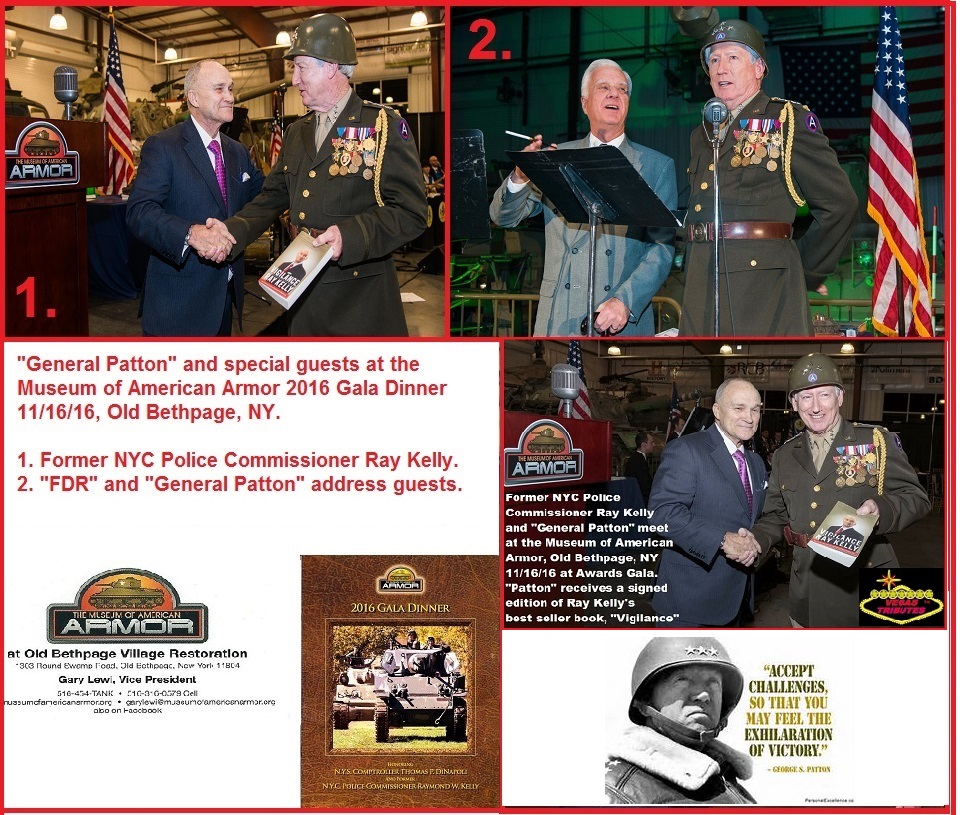 A national "Accept The Challenges!" appearance for the annual Desert SW Fire & EMS Leadership Conference in Glendale, AZ at the Renaissance Westgate Hotel & Conference Center.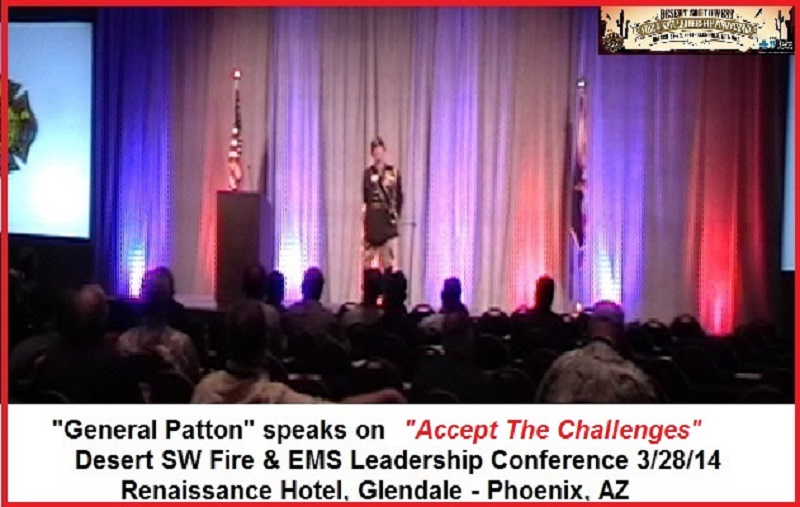 After every speaking engagement, attendees all want photos with "General Patton!"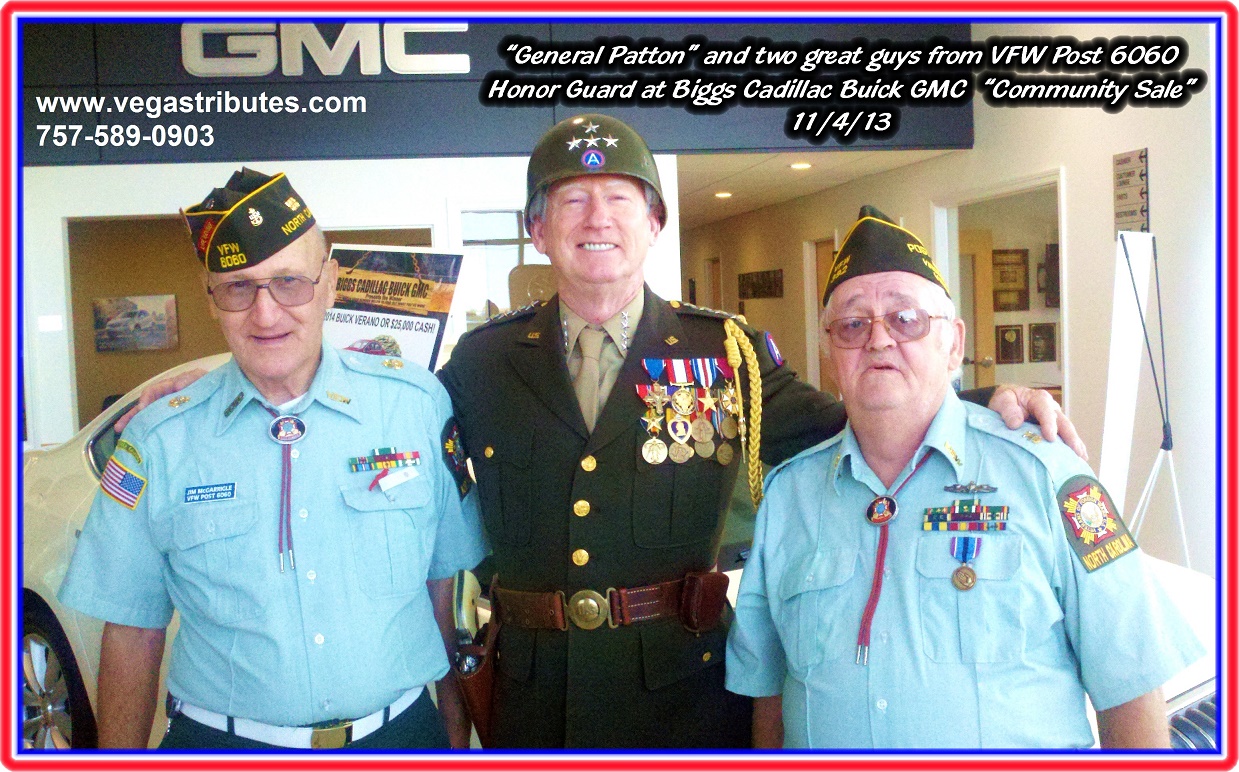 Coincidentally and appropriately, Tim is now also the same age range as General George Patton was during the most famous battles of ETO - WWII, and a relatively big fellow like Patton, the same height, weight, sharp-eyed eagle-like facial features, even the real and authentic Patton twangy voice! ..( however, can also mimic actor George C. Scott's gravely Hollywood version voice for the masses who aren't informed).
Being a top historian on General Patton's personal life and military career, Tim's knowledge and appearance will bring Patton back to life in startling clarity, able to converse as Patton himself would, with the most educated of WWII buffs and historians. Guests delight in discussing their "knowledge" with the General. This has moved many of those elder veterans who actually knew Patton personally to remark that Tim's "Patton" is an outstanding performance, and incredibly realistic.
SEE PHOTO COLLAGES BELOW


There are two uniquely "different" styles to Tim's Patton portrayal. As mentioned, he can either deliver his popular Hollywood-style high-powered fun "parody impersonation" well known from the Academy Award winning movie PATTON of 1970 ala actor George C. Scott, in Scott's gravely-gritty voicing impressions, or much more uniquely, as a truly accurate and historic formal performance with the correct voice, pacing, mood and attitude of the real General Patton. True historians who knew Patton, and heard his live talks, speeches and recordings know the big difference!
His formal appearances include for the US Army TV world-wide broadcast of their 230th Birthday Ball Celebration in Washington, DC, also at General Patton's honored U.S. Military Academy at West Point in New York. As General Patton, Tim also performed for many and wide variety of national Army - Air Force base events, U.S.O. & M.W.R. fundraisers and also acted as guest host for the tour of historic military homes at the US Army's Fort Monroe. Tim has also acted in his General Patton role for TV commercials, corporate video presentations, festivals and other patriotic and civic events.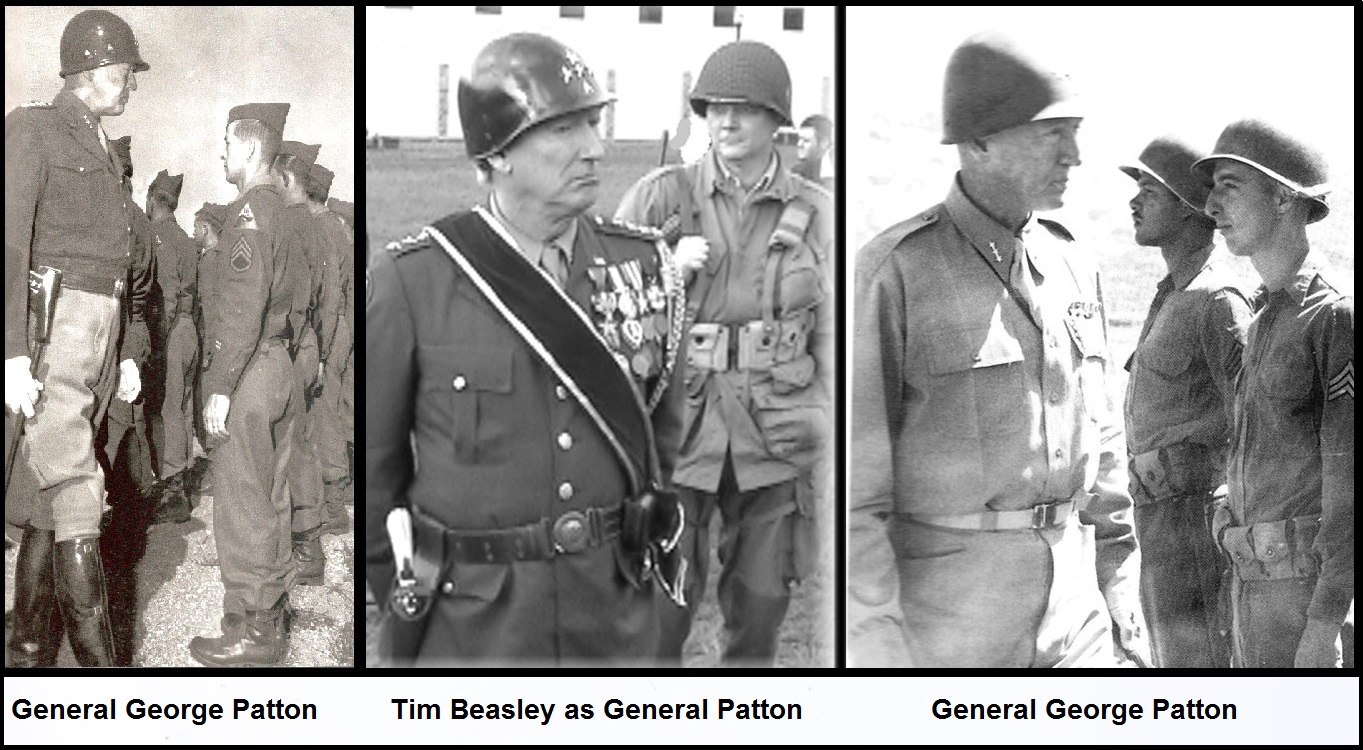 A side-by-side comparison of Tim Beasley, center frame, with the very real General George Patton from 2 historic WWII photos. . .Tim's photo, by the way, was not a staged-shot, but just a random photo taken as "Patton" obliged the "Cumberland Goes To War," ( Cumberland, MD's week long city-wide Veterans Day event) with an inspection of the WWII re-enactors' encampment, for the enjoyment of WWII historians and buffs.
.
Largest event and performance as "Patton" was as the opening entertainer and speaker for the very prestigious US Army 230th Birthday Ball Celebration held at the historic Hilton Washington, in Washington DC. He shared stage with Vice President Dick Cheney, Emmy Award winner Susan Lucci (emcee) , the Army Show, and the very top brass of the US Army (Chief of Staff Gen Peter Schoomaker, Vice Chief of Staff Gen Dick Cody, Secretary of the Army Francis Harvey, Sergeant Major of the Army Kenneth Preston) and top Pentagon officials.
The grand event had over 1200+ distinguished guests. For this very high-level national and world-wide event, the US Army wanted only the best. Actually inquiring for and recruiting Tim to perform as "Patton," ( from all of the professional actors specializing in this portrayal ), the US Army's engagement deemed him the best "Patton" performer in the world!
Quote From Machelle Eitniear of Army Television, The Pentagon, Washington, DC.

"Thank you for your support of our event. Your presence set the tone for the evening!"
SEE AND HEAR THE ACTUAL ARMY BIRTHDAY BALL PERFORMANCE AS BROADCAST WORLD-WIDE, PLUS 7 EXAMPLES OF THE CORPORATE -HISTORICAL APPEARANCES IN VIDEOS OF ACTUAL LIVE PERFORMANCES BY SIMPLY CLICKING ON THIS YOUTUBE LINK:
http://www.youtube.com/playlist?list=PLfgTVtGCxkTljMb40fTzBGcfE6LSLLJfU&feature=edit_ok

A bit more here about having "Patton" for your fun and exciting sales and marketing events, awards banquets, motivational meetings etc. In this delivery, "Patton" adds a multi-megaton blast of lambasting the companies' competitors. The famous "flag speech" performance is the highly recognized center focus, colored with direct-hits on the competition's weaknesses and teamed up with hilarious and cheer-provoking references to slackers and other obvious speed-bumps to the clients' forward sales success.....it's always a winner, and like General Patton famously said, "Americans love a winner!!!"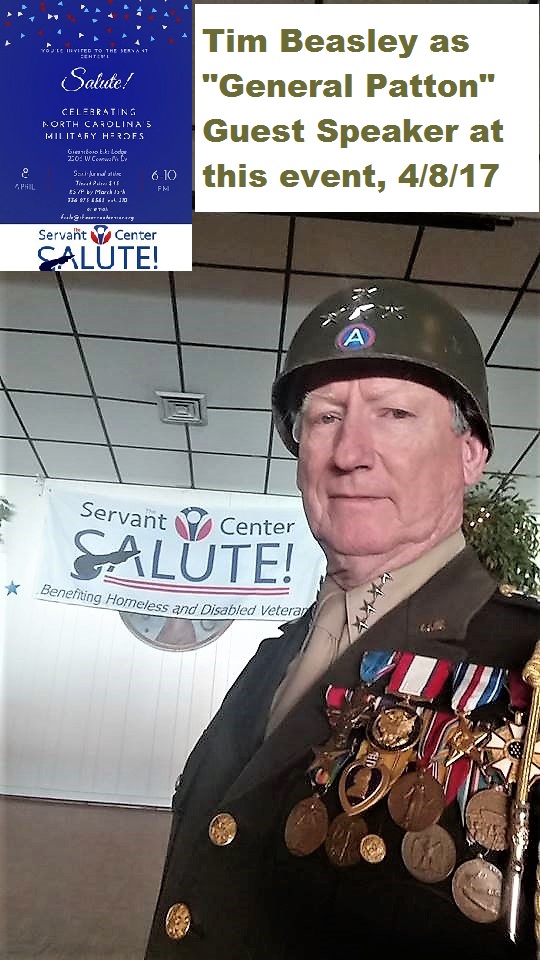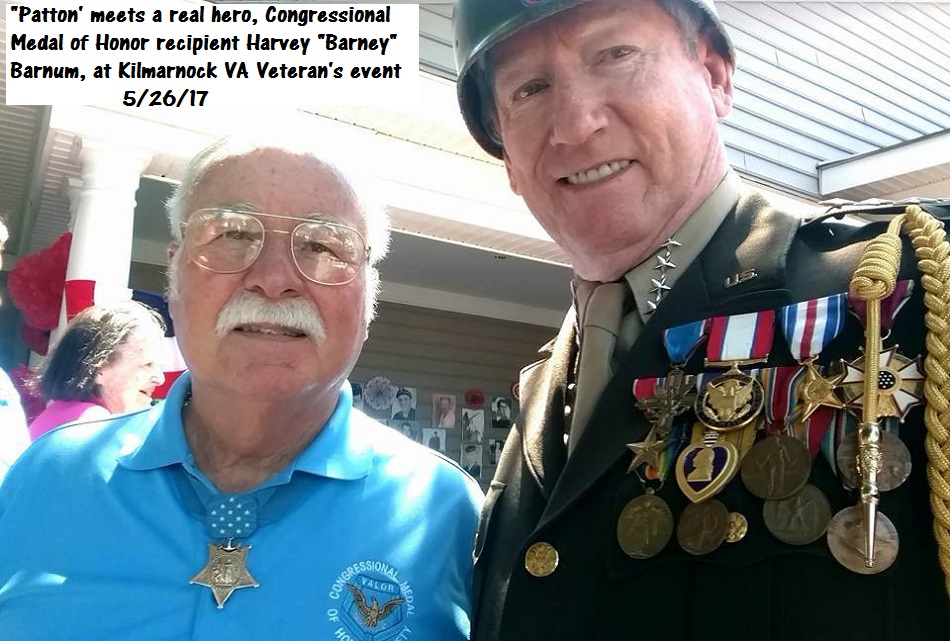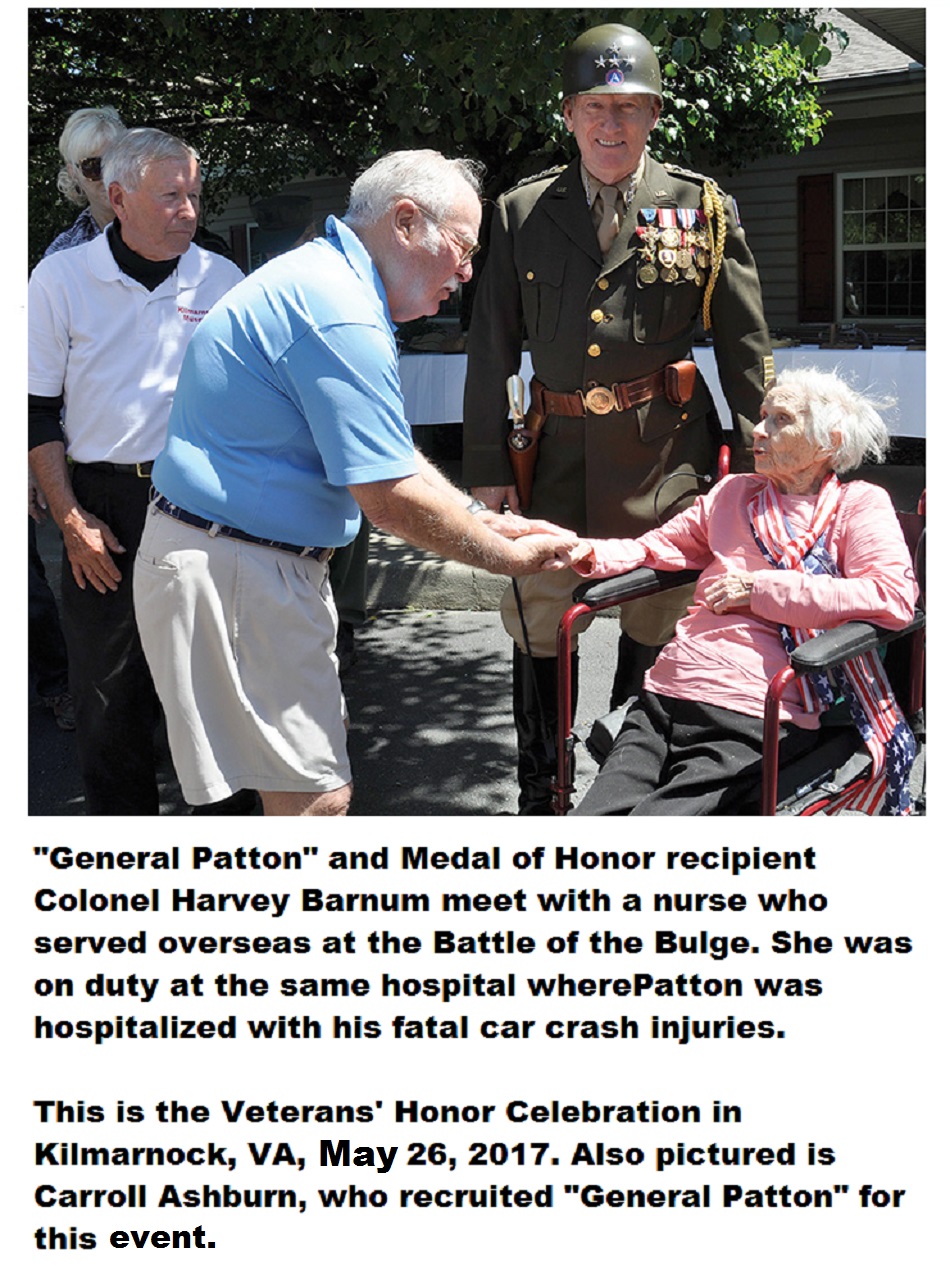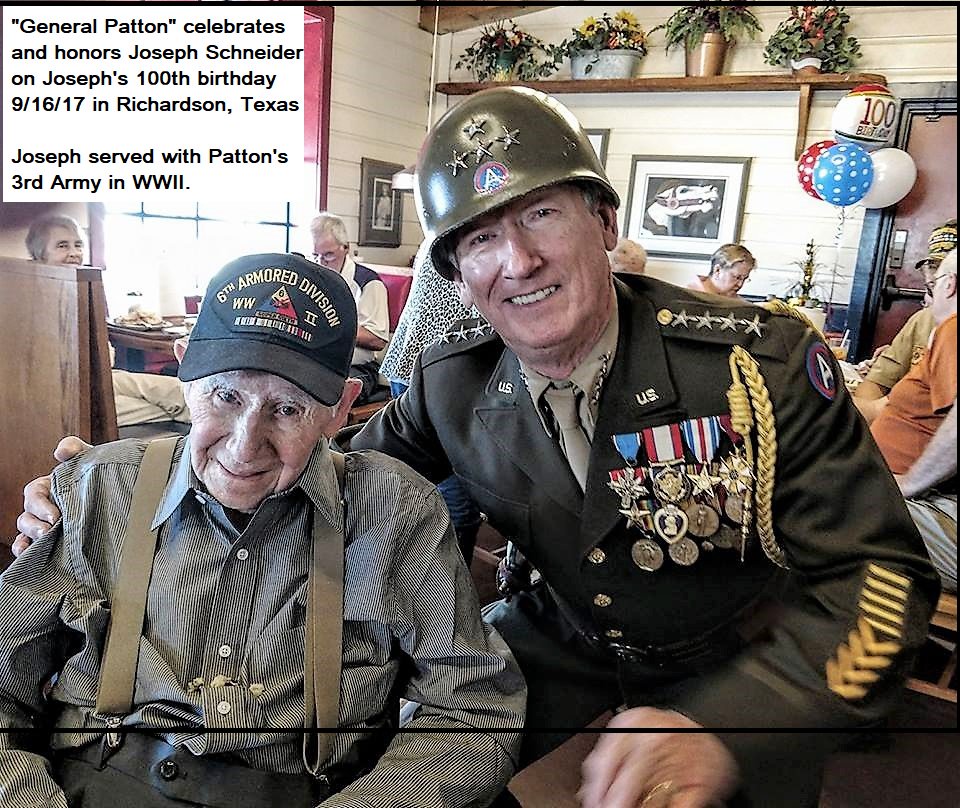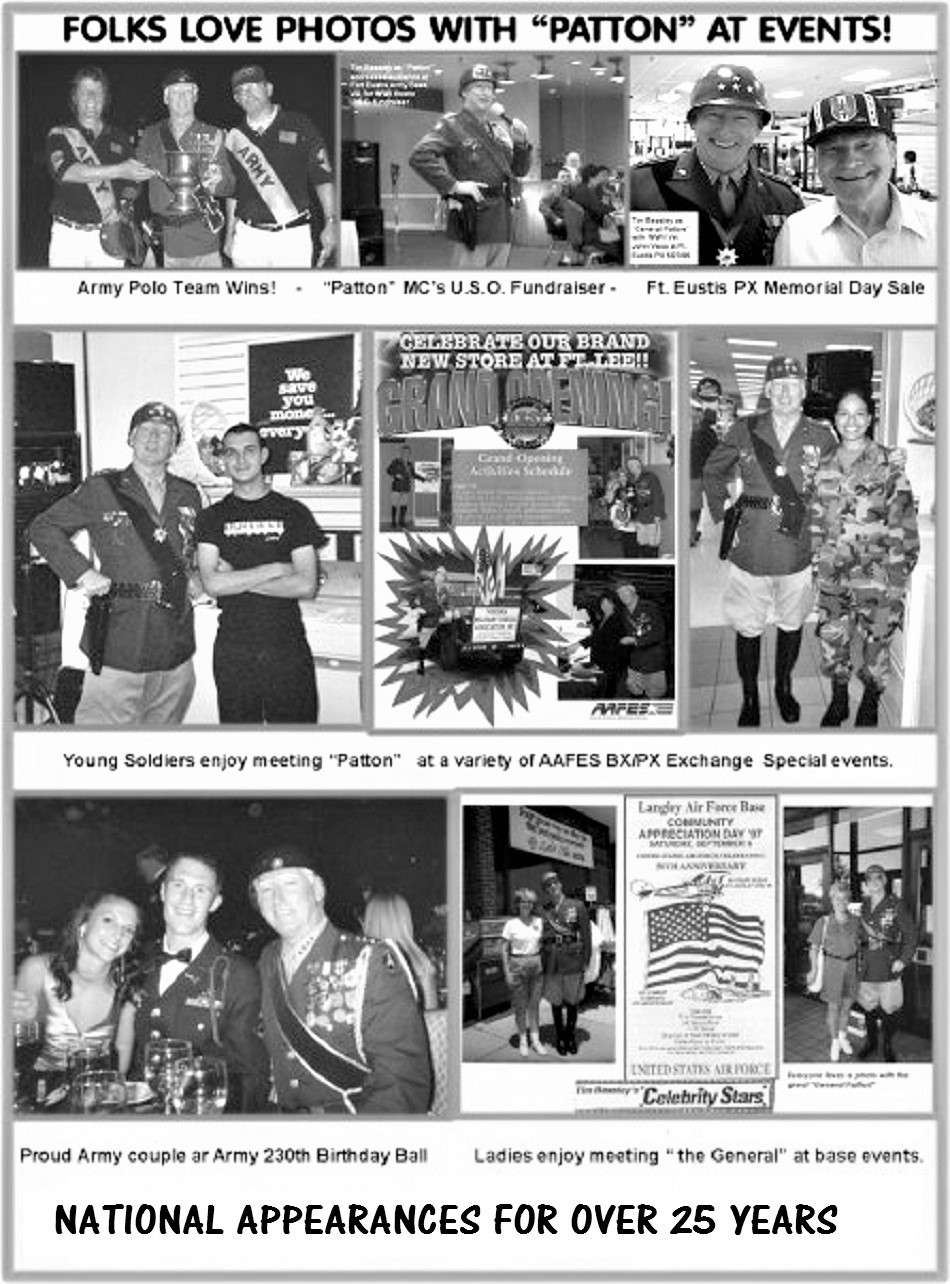 SEE 7 EXAMPLES OF THE CORPORATE -HISTORICAL APPEARANCES IN VIDEOS OF ACTUAL LIVE PERFORMANCES BY SIMPLY CLICKING ON THIS YOUTUBE LINK
http://www.youtube.com/playlist?list=PLfgTVtGCxkTljMb40fTzBGcfE6LSLLJfU&feature=edit_ok
TV Appearances

CNN National News feature on Impersonator Convention in Orlando FL.


World Wide Broadcast Army TV - The U.S. Army Birthday Ball Saturday, June 18th, 2005


Blackwell Dodge/Chrysler/Jeep Danville, VA.


Beach Robo Virginia Beach, VA.


Lube & Oil Express Salem, VA.


ABC TV 13 News, Grand Opening of Fort Story Exchange Mall.


WCJB ABC TV 20, Gainesville, Ocala, FL. "Guardians of Freedom" TV news

feature.
Corporate Appearances

Diageo Guinness USA "War On The Floor 2007 in Atlanta GA, also 2009 in LasVegas.


2014 Chevrolet Silverado Premiere, Dallas, TX

Sprint Party, Manhattan NYC.


Schering-Plough, "Drive For Gold" Product Launch, Kansas City, MO

2014 Desert SW Fire & EMS Leadership Conference, Glendale - Phoenix, AZ


Hendricks Chevrolet Sales Meeting Rally, Norfolk, VA.


Mullen Transport, Calgary, Alberta Canada "Vice President Roast".


SunTrust Bank Managers Conference.


LGI Worldwide, Awards Banquet, Columbus, OH.


Progressive Group Alliance Food Brokers 'Top Gun Awards" - Virginia Crossings Business Resort.


"Cumberland Goes To War" City-wide 10-day WWII Veterans Celebration, Cumberland, MD.


Winn-Dixie VML Advertising Kansas City, MO.


Veteran's Day Celebration, Coliseum Central Business District, VA.


Elliott Equipment, Louisville, KY

. BAE Systems Norfolk Ship Repair "Shipyard Show & Shine" Custom car & truck show


Doubletree Club Hotel, VA, Vet Reunion Committee Conference.


Quality Foods Little Rock, AK New Products Sales Promo.


Safety-Kleen, Chicago, IL.


Omni Hotel National Tour Association Convention.


Grand Marshal, Patriot's Parade, Rivahfest Festival, Kilmarnock, VA.


Elliott Equipment Expo. Williamsburg, VA and Louisville, KY.


Biggs Buick -Cadillac - GMC Super Sales, ( 10 events ) Elizabeth City, NC.

Group 10 Financial, sponsor of Veterans Day 2010 events,


Deltona, FL ar Deltona Library Amphitheater,


Deltona Veterans Museum and Deltona VFW.
Military Appearances

The U.S. Army Birthday Ball Saturday, June 18th, 2005


The U.S. Army Corp Of Engineers At Hilton Garden Inn Town Center, 2005


Army vs Marines Memorial Polo Match, Great Meadow Polo Gounds, July 2006


Museum of American Armor, Old Bethpage, NY Awards Gala, November 16, 2016

Middlesex County Veterans Recognition Luncheon, Saluda, VA November 10, 2017

Army vs Navy Polo Match, Great Meadow Polo Grounds, May 14, 2016


Grand Opening AAFES Exchange Mall West Point Military Academy, NY 2002


Grand Opening AAFES Exchange Mall Fort Lee, VA


Grand Opening AAFES Exchange Mall, Fort Story, VA


RCA Truckload Sales Event Fort Story, VA


Retirees Day Sale AAFES Exchange Mall Fort Dix McGuire AFB, NJ


Veteran's Day Sales event, AAFES Exchange Main Store, Langley AFB, VA


AAFES Exchange Main Store Retiree Sales Promotion, Langley AFB, VA


Air Force 50th Anniversary & Community Appreciation Day


AAFES Exchange Mall Sales Event


U.S.O. Benefit Emcee, Fort Eustis, VA


July 4th Sales Event, Fort Eustis, VA


Flag Day Sales Event AAFES Exchange Main Store, Fort Monroe, VA


Grand Opening AAFES Exchange Auto Shoppette, Fort Monroe, VA


Memorial Day Sales Event AAFES Fort Eustis, VA 2005


Fort Myer, VA Fitness Center's "Senior Health & Fitness Day" 2007


Tour Guide Historic Homes of Fort Monroe Army Base


Continental Convoy 2009, Military Vehicle Preservation Assoc. 90th


Anniversary - Commemorative Event, Rochelle, IL, including a public meet & greet at US Army Division One Museum ("The Big Red One")


"Guardians of Freedom" 2010 Veterans Celebration, Equestrian Heritage 2010


Institute & Florida Carriage Museum event, Weirsdale, FL

"Salute!" Fund raiser Gala for the Servant Center, at Elks Lodge 602, Greensboro, NC March 2017

"Home Town Heroes" Memorial Day Celebration, Kilmarnock, VA May 2017

"Middlesex County Veterans Recognition Luncheon" Saluda, VA Nov 2017
Authentic Look
After quite a few years of searching for the best authentic and actual WWII vintage uniform items, especially the Army Regulation Officers Tunic Coat ( as General Patton wore in several of his historic photographs ), Tim is proud to now have in his General Patton's uniform ensemble museum-quality editions. As the vast majority of those coats sizes were equal to standard "Medium" in size ( 36, 38, 40, 42 ), an equivilant size 44 Large (same sizes as General Patton and Tim Beasley) was extremely rare to find. This fine example below, with authentic WWI & WWII medals and Third Army insignia now completes his uniform in a grand manner!
The medals are all authentic, WWI & WWII issues, presented in the order Patton wore them.
The equestrian riding pants seen featured in Tim's photos are his dad's, Ed Beasley, made in USA Anvil Brand of 1942.

Authentic Colt 45 S.A. 1873 "Peacemaker" with qenuine El Paso Saddlery holster and US Army gun belt, known by collectors as a "Patton rig" also featuring Patton's "compass holder" ( which is actually a handcuffs case ) and 45-caliber cartridge holder not shown, with helmet liner detailed as 4-Star General, with 3rd Army insignia.



Major Veterans Day Event in Weirsdale, FL near famous community 'The Villages." This grand event known as "Guardians of Freedom" was a week long celebration to America's Veterans.


Here at the "Guardians of Freedom" big Veterans "Salute!," the General meets Irving Locker, a man who served in the US Army's major battles of WWII Europe, from D-Day, to the Battle of the Bulge, to the liberation of the concentration camps...a real hero, who, by the way was honored along with two other WWII Veterans nationally during President Trump's State of the Union address February 5, 2019.
The event below, the BAE Systems Norfolk Ship Repair "Show & Shine" Custom Car & Truck Show of Sept 7. 2013, was held as a fund raiser for two organizations that assist WWII Veterans in visiting the WWII Memorial in Washington, DC. American Warriors and Historic Triangle of VA Honor Flight raise funds to fly or bus Veterans at no charge to see this great memorial built to honor them. "General Patton" was pleased to be the emcee for the awards given to the best cars and trucks in the show. Proceeds and funds from the sponsors and attendees at this event generated almost $6000! Wonderful people and a great cause.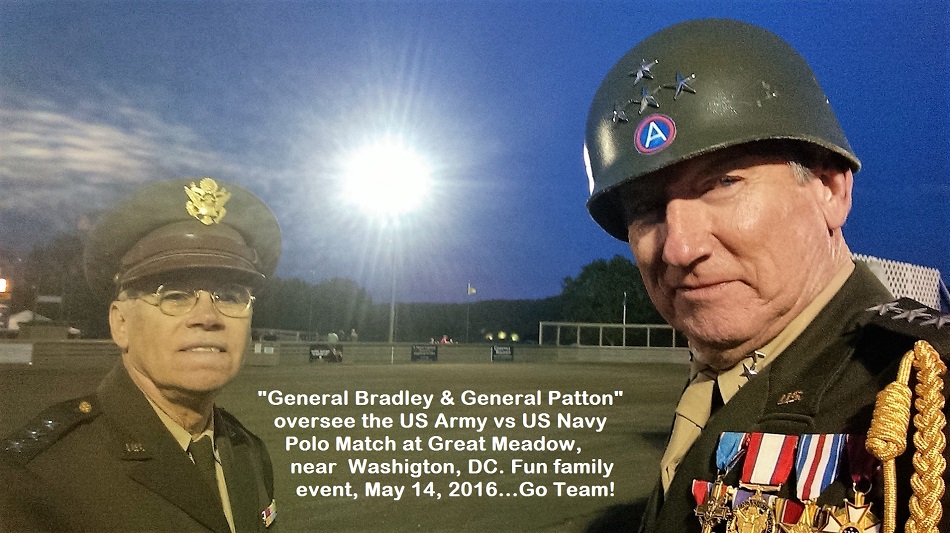 Licensed And Insured since 1986

Copyright © 2010 Tim Beasley's Celebrity Stars
Phone - Text 757-589-0903
Bookings nationally, internationally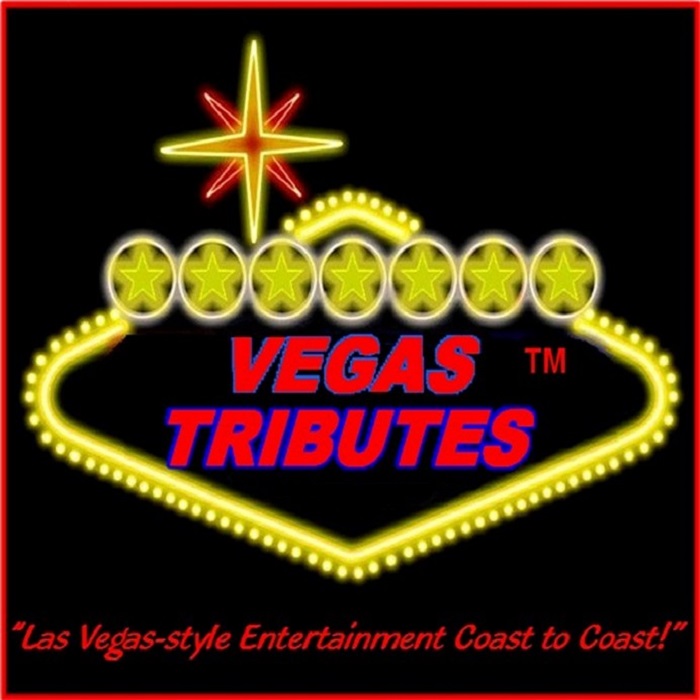 .
General Patton, actor, impersonator, tribute, historical talk, motivation, inspiration, keynote speaker, military, US Army, World War 2, courage, soldier, battle, hero, leader, military, MWR, Washington DC, 3rd Army, Patton Museum, West Point, USMA, VMI, Veteran, tank, Berlin, Germany, Luxemborg, France, Italy, Tunisa, Rommel,desert training center, Indio, Morraco