INSPECTOR CLOUSEAU IMPERSONATOR, PETER SELLERS OR STEVE MARTIN LOOK ALIKE

All details, show ideas, suggestions copyright 2000 Tim Beasley
"Pink Panther Diamond Heist Mystery Game" TM
Inspector Clouseau impersonator look alike actor, in his trench coat, tweed alpine hat and dashing moustache is instantly recognized by fans of the hilarious 1960's (& 2000's revised) Pink Panther movie series. Anyone who was a teen or young adult of the 60's knows the looks, manners and comical hi-jinks of "Inspector Clouseau," the central character portrayed by popular British actor, the late great comic genius Peter Sellers (and 2000's Steve Martin).
These movies are well loved by multi-generations now, and are regularly broadcast on cable- dish networks as classic favorites ( see below at end ).

Tim Beasley, a professional actor specializing in a wide variety of celebrity impersonations for over 30+ years, brings "Inspector Clouseau" back to life in all details- looks, voice and animated antics! . .It helps that Tim is like many millions of his peers, in being a big first-generation fan of all those great "Pink Panther" comedies!
See the video of the above Movie Tavern Grand Opening event at this link:
http://www.youtube.com/watch?v=CfunQfpA6GA
Having a special event, fundraiser gala, social party, or as the French say, soiree? Tim as "Inspector Clouseau" is perfect for any classic Hollywood, Mystery, 1960's or even Paris and French theme events…. and from years of on-stage experience being a promotional entertainer, he's also a master emcee! ...and it's great fun for all ages, as "Inspector Clouseau" has entertained for Bar- Bat Mitzvahs, teen and preteen birthdays, even 50-60-70-80 year birthday parties!!!


"Pink Panther Diamond Heist Mystery Game" TM
Here's a great party idea and central theme perfect for glamorous special events, fund raiser galas and socials, even birthdays and wedding receptions!…have a "Pink Panther Diamond Heist Mystery Game" ala Monte Carlo Masquerade Ball!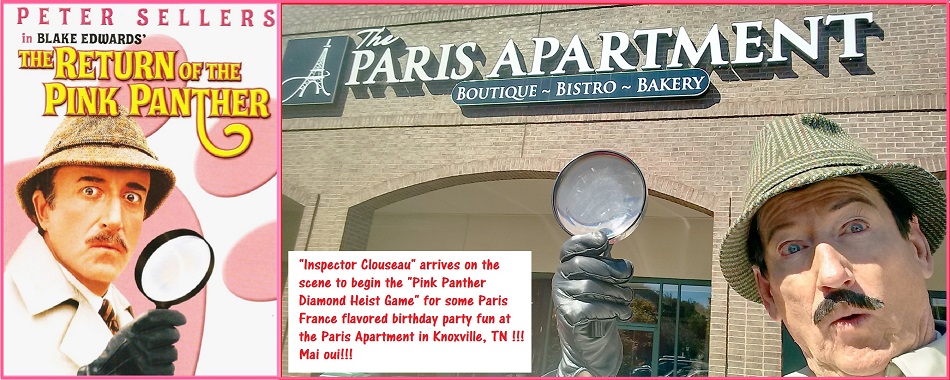 Guests are encouraged to come dressed out in full (or over the top!) French fashion fantasy (we will also provide an assortment of fun chic props and costume items, feather boas, tiaras, fedoras, etc.). The ladies, all dressed out in their finery enjoy getting their paparazzi photos with the lovable, bumbling detective during the reception!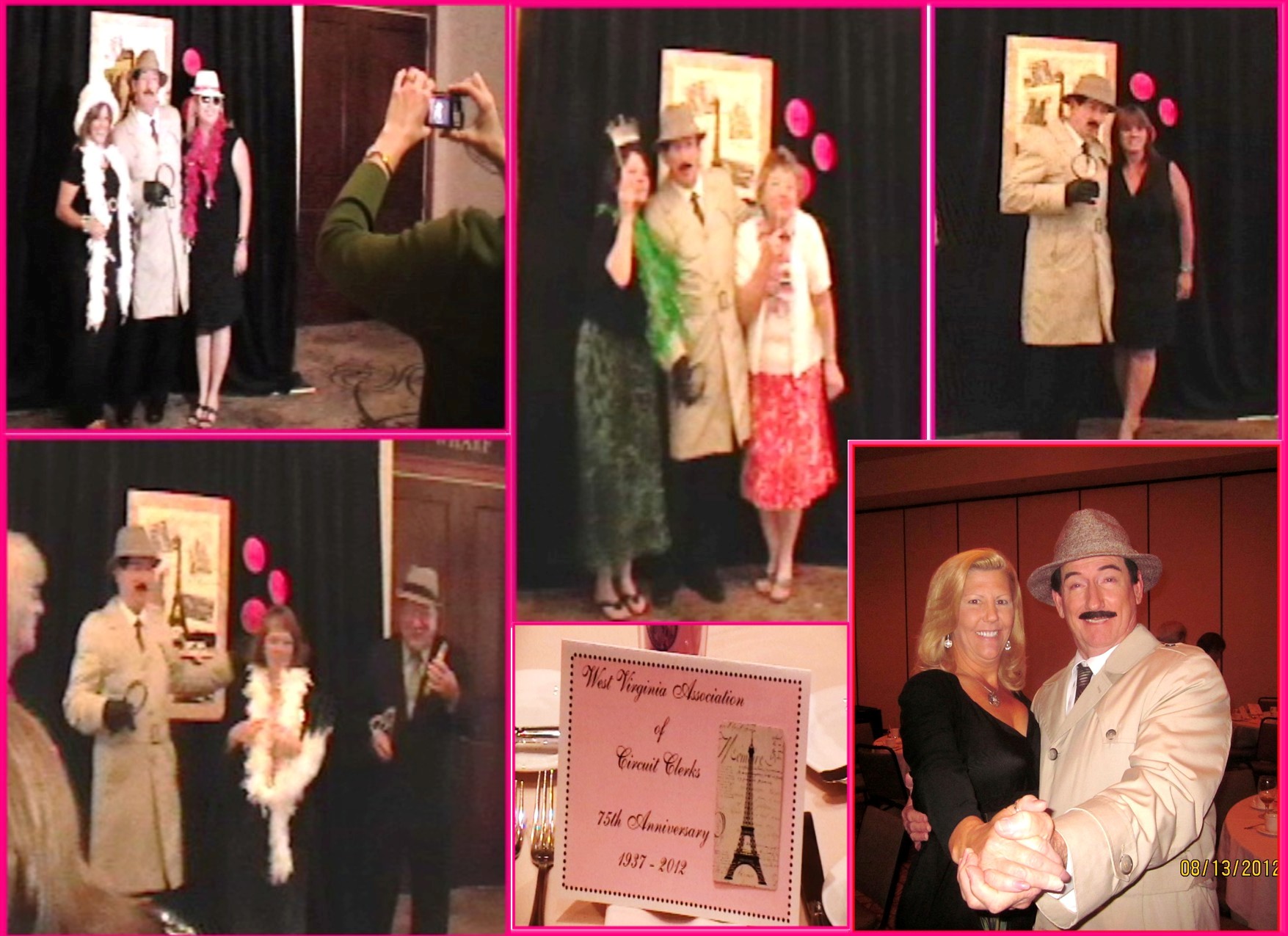 (See more great "shots in the dark" taken with guests at a variety of national "Pink Panther Diamond Heist" games, below!!!)

Mai Oui! Optionally, during reception and dinner we can provide ultra cool & chic bossa nova, cha cha jet-set tunes, ala the optional Pink Panther DJ, for great mood music, and "Inspector Clouseau" may also wow your guests as he is quite the talented moonlighting international Paris, French Riviera and Monte Carlo resort lounge jazz singer, and can croon with "I Love Paris," "The Girl From Ipanema," "Come Fly With Me," "Strangers In The Night" and more ala Frank Sinatra...in fact, he is known affectionately as "French-Fried Frank!"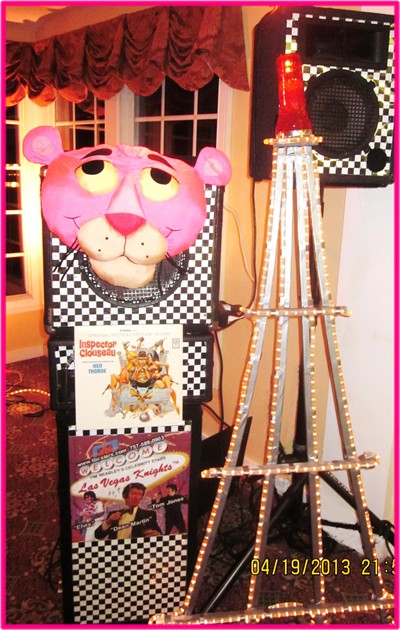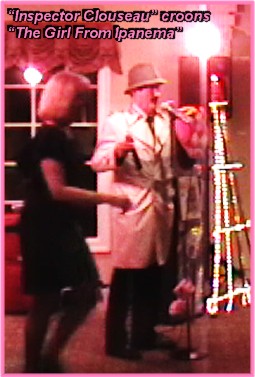 "Inspector Clouseau" fresh in from Paris for this special assignment just happens to have accidentally brought with him the suitcase that his "Paris Can-Can Dancer Girls" pack their skirts, feather boas and headresses in. To help liven up his performance, he recruits 3 or 4 ladies from the audience to fill those skirts (easily and quickly worn like jazzy aprons with Velcro straps waistbands) and be his substitute "Can-Can Dancers!"
Everyone loves this and the cameras always come out to capture the fun! Below, here's a grainy "still-frame" photo taken from a video of the "Pink Panther Diamond Heist" party in San Diego for a hospital fund-raiser gala..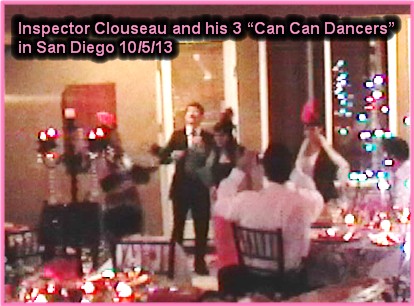 "Inspector Clouseau" begins game with announcement that the "Pink Panther Diamond" that was on display has again been stolen during the reception!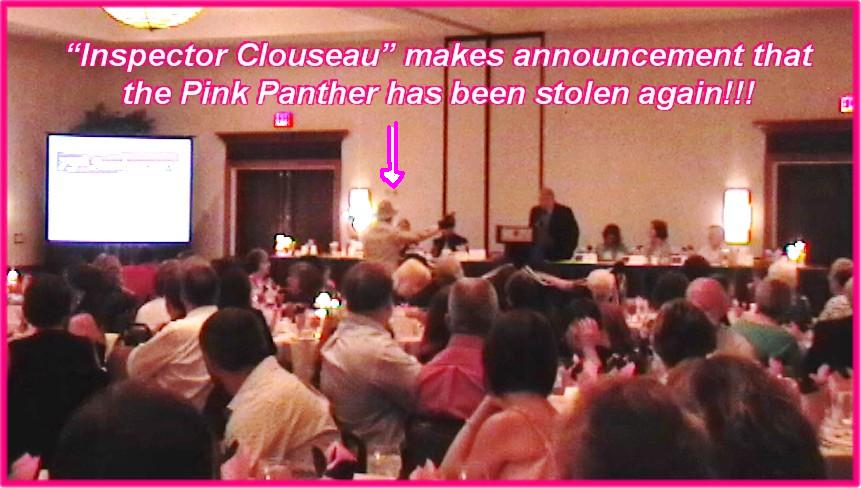 By "interrogating" the guests, Inspector Clouseau will provide clues as to who the international jewel thief "The Phantom" may be. Every guest is indeed a possible suspect, as it's divulged that "The Phantom" has actually never been apprehended, so they may be a man or a woman, and considered an ingenius and stealthy master of disguise!!!( this is actually mentioned by "Inspector Clouseau" himself, in the movie "The "Return Of The Pink Panther").
"The Phantom" may assume any identity to get close enough to snatch the prized "Pink Panther" diamond, which happens at this very special display!

Clues will be subtlely revealed, but unheralded, so that the quick-witted guests will pick up hints to where the "Pink Panther" diamond is hidden, leading up to the solution. There will be prizes awarded to the guest/s offering the correct solution on the crimesolver forms, (in the event of more than one correct solution, the names of those guests will be drawn from out of Inspector Clouseau's chapeau!) Oh, and possibly a "fun arrest" at the conclusion. (spoiler alert - call and we'll explain who "The Phantom" turns out to be!)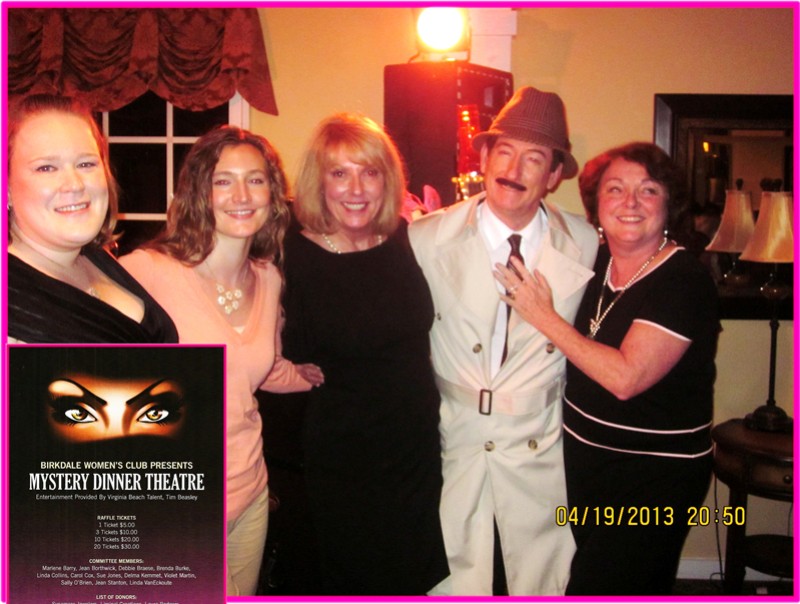 The ladies love "Inspector Clouseau!"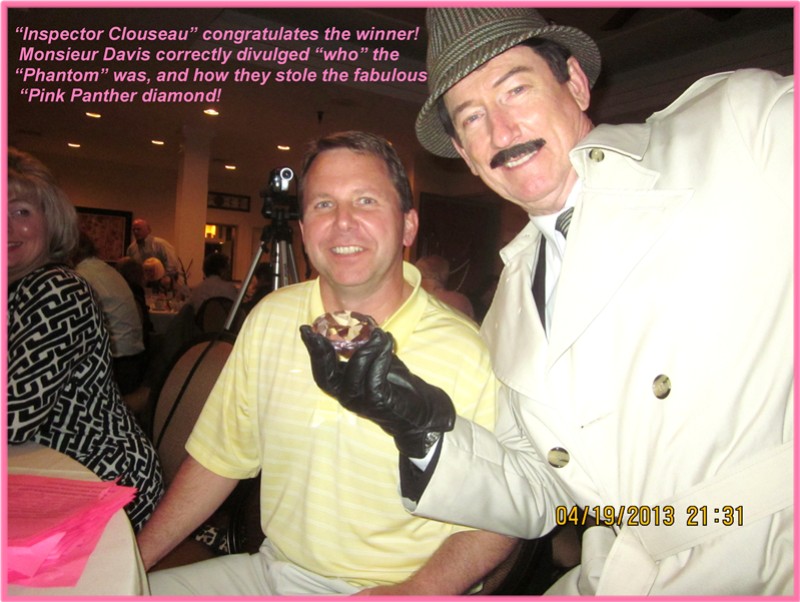 In addition to his 30+ years as a national variety celebrity impersonator and professional emcee, Tim Beasley was a regular actor in the original "murder mysteries" that flourished throughout the east coast resorts in the 80's - 90's. This is the very solid foundation of experience that makes this production so smooth, fun and entertaining!
Oooo-La-La! Here "Inspector Clouseau" enjoys toasting the guests with a fabulous drink, made especially for this party, a "Pink Panther Potion!"

Here's some more recent 'Pink Panther Diamond Heist" fun in San Diego, California and Rochester, New York.....there's a lot of country between the two for "The Phantom" to strike!