Jerry Lee Lewis Impersonator Tribute Show
Tim Beasley is a natural "look alike, sound alike, act alike" to Jerry Lee Lewis, the original rock n' roll wild man. Tim's Jerry Lee Lewis impersonation show and tribute performance is as hot as it gets for a "Great Balls of Fire" kind of reaction from every audience!...See and hear for yourself on the Youtube video at this link:

http://www.youtube.com/watch?v=VqpKJn-9MUE
also here's "Jerry Lee" with his other "Rock n' Roll Heroes!"

http://www.youtube.com/watch?v=SeuXEgrPzCI&list=UU6TyfJGNh9bC2S0zclz4HEg
Events include
Clear Channel - Live Nation's "Legends of Rock n' Roll'
Cadillac Buick GMC Supersales
The Nauticus Marine Museum "Killers"
Cruisin' Ocean City - Major Auto Event in Ocean City, MD
Bay Construction Annual Christmas Party at The Norva, featuring a concert also by the very real Jerry Lee Lewis himself!

Army Air Force Federal Exchange Service
Virginia Beach VA Fourth Of July Celebration
Bethpage Resort
"The Piano Men" tribute show, Indian Wells Theater, Palm Desert, CA
Corporate Events - Resorts - Convention Centers - Theaters - Cruises -Retail Promotions

Jerry Lee Lewis is a very important figure in the history of rock n' roll, and Tim performs all those rockin' tunes like "Whole Lotta Shakin' Goin' On", "Breathless", "Great Balls of Fire," "High School Confidential," "Sweet Little Sixteen," "Blue Berry Hill," "Johnny B. Goode" and the later country-style hits like "If You've Got The Money - I've Got The Time," and "Middle- Age Crazy" that made "The Killer" a legend in his own time. With his natural wavy auburn hair, lanky limbs, rooster style struttin,' keyboard hammering and soulful vocals, Tim will have the crowds, especially the ladies, "Shakin" for more!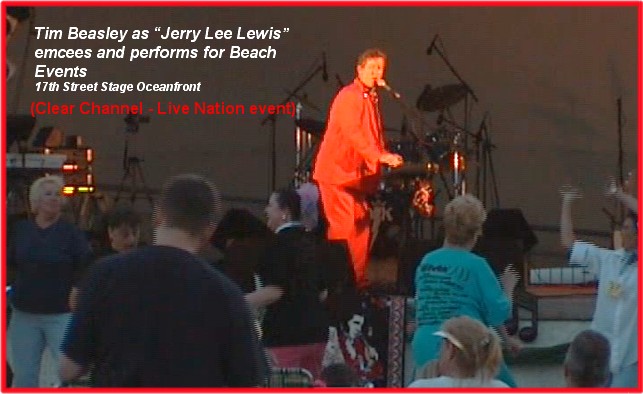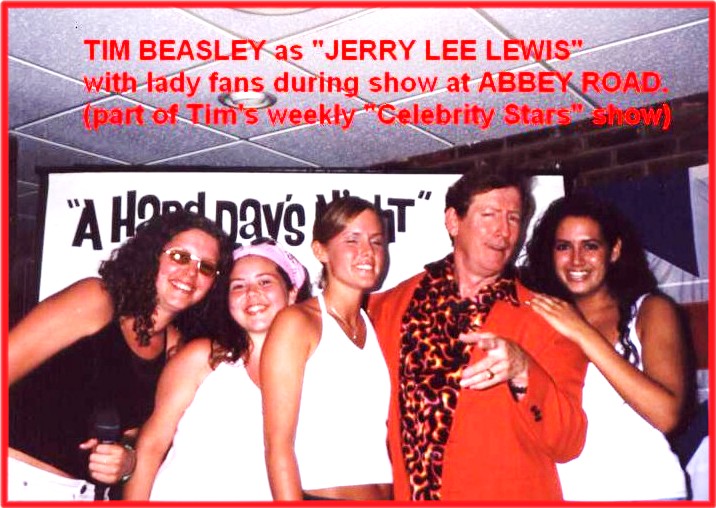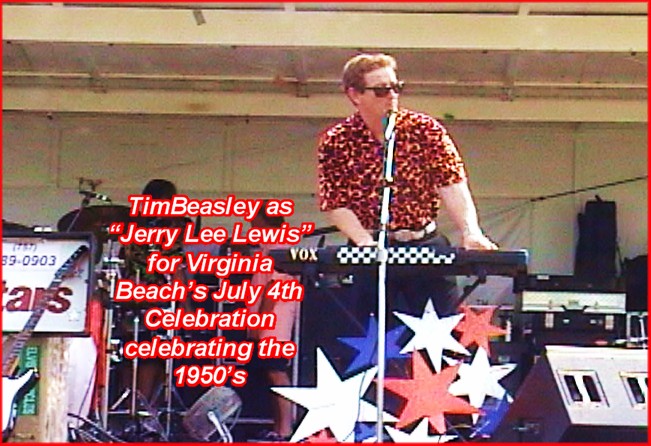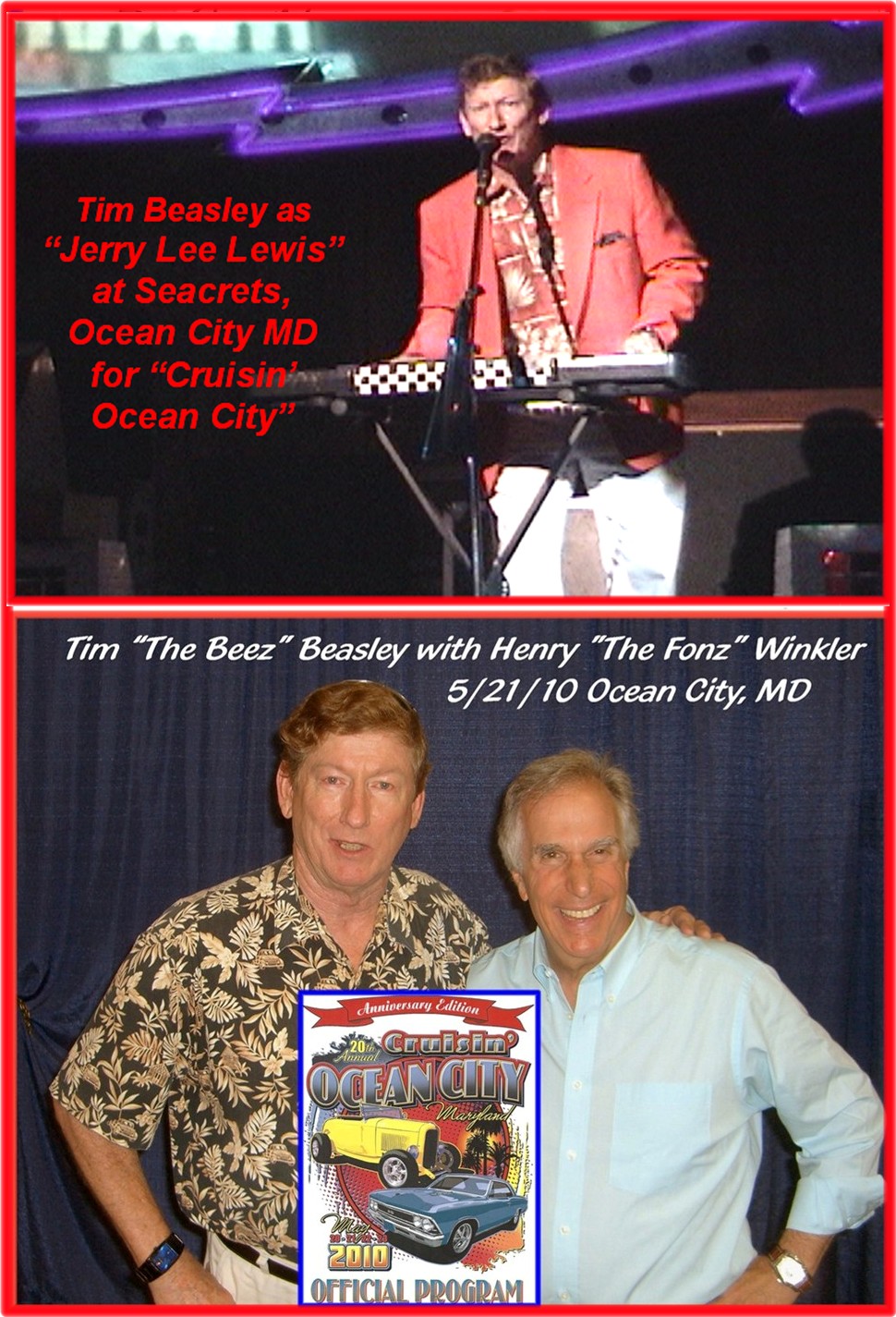 Tim can spotlight perform his Jerry Lee Lewis solo tribute or combine his multi-impersonation talents into a one-man spectacular also featuring his "Elvis" and "Roy Orbison" tributes for a night of Memphis memories! For the "record," all three where recording artists at the famous Memphis Sun Records. Add his "Buddy Holly" and "John Lennon" and you've got a 5-Star constellation known professionally as "Rock n' Roll Heroes!
A recent show in Palm Desert California (1/19/14) near Palm Springs, had Tim as '"Jerry Lee" joining two other professional Las Vegas-area tribute performers, Mitch Adams as "Elton John" and Michael John as "Billie Joel" in a three-star show called 'The Piano Men" produced by D&K Productions of Palm Desert. A fun show, great audience that night!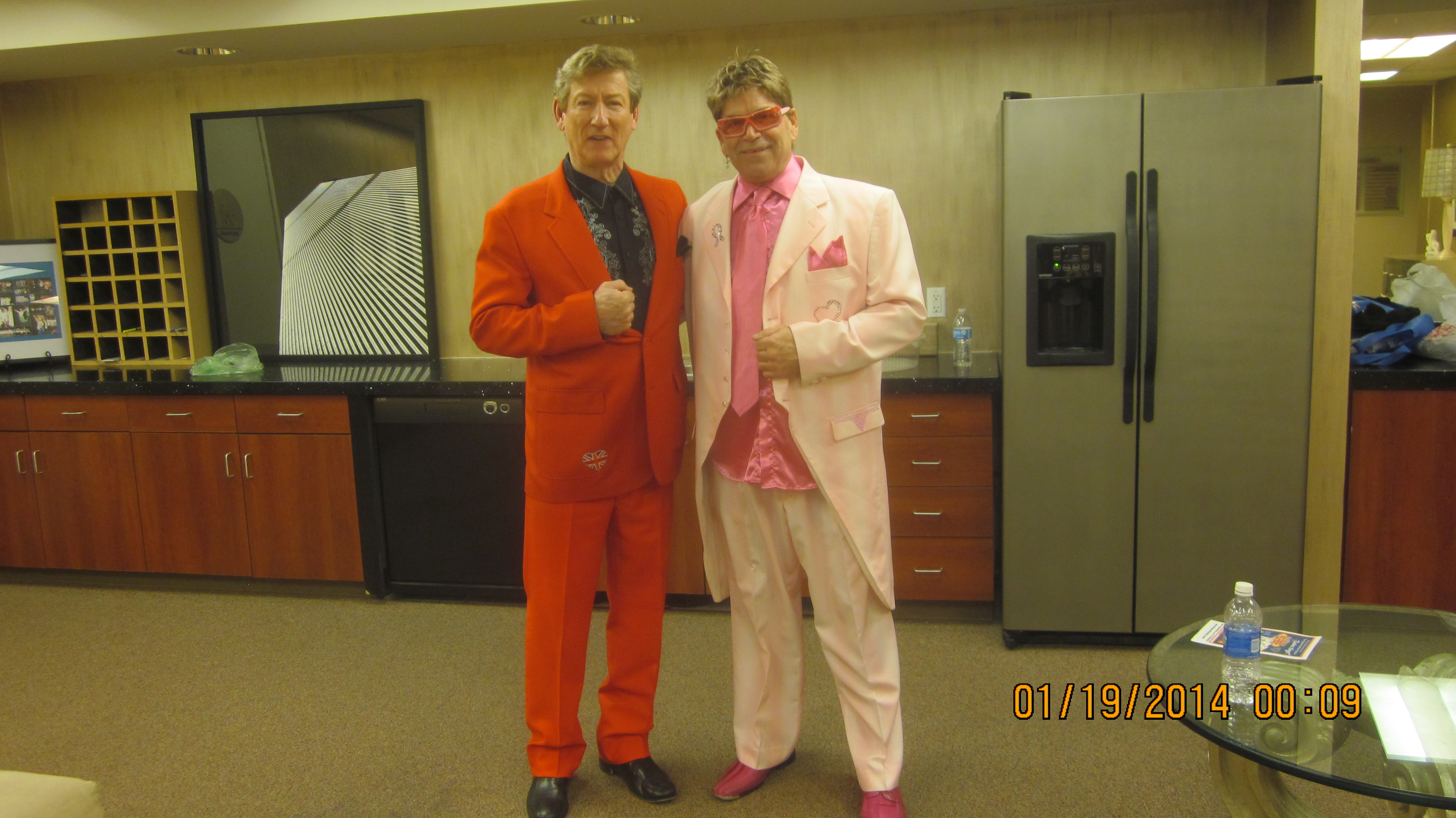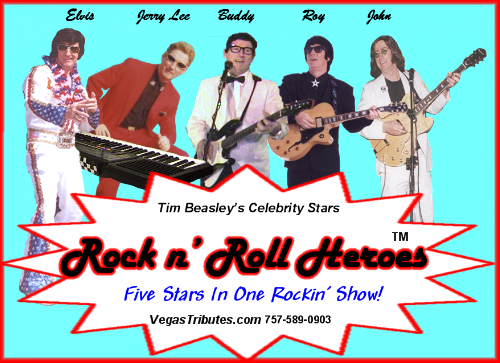 .

Bookings nationally -internationally, have show, will travel!
e-mail: timobeasleystar@aol.com

Phone / Text : 757-589-0903

Please call, we love to talk!
Licensed and insured since 1986
Jerry Lee Lewis, impersonator, tribute show, impressionist, look alike, Las Vegas, New York City, Los Angeles, Palm Springs, Miami, Chicago, Memphis, Nashville, Dallas, Houston, Phoenix, Boston, Denver, Hollywood, Branson, Orlando, Biloxi, Reno, Lake Tahoe, entertainer, showman