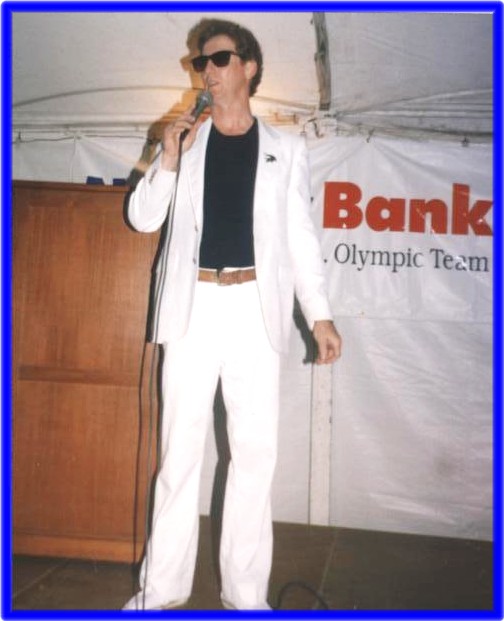 One of the biggest TV hits of the 80's, "Miami Vice" also was a huge influence on the fashion, feel, mood and music that shaped the "Awesome 80's" into one hell of a party! They say "if you remember the 60's you weren't there," but if you lived and enjoyed the 80's, your eyes, ears and taste buds were on full drive like a Ferrari!
The main men of Miami Vice, "Crockett & Tubbs," were always cool, casual, slick and sophisticated gents out on the South Beach scene, draggin' in the bad boys, and makin' it with all the lovely ladies!



We have "Sonny Crockett" who not only will add that 80's Miami macho man flavors to your party favors, he also is the essential MC, and will conduct any prize drawings, announcements, even sing a few of those Don Johnson favs ( yes, "DJ" recorded some 80's hits!)
Optionally, "D.J." can also be your "DJ" spinning a cocktail of 80's greatest dance hits, including those of REO Speedwagon, Human League, Toni Basil, Phil Collins, Glen Frey, Cyndi Lauper, Stevie Ray Vaughn, Hall & Oates, Foreignor, 38 Special, Nu Shooz, Lionel Ritchie, Duran Duran, The Cars, Kenny Loggins, Madonna, ZZ Top, DeBarge, Culture Club, The Bangles, Van Halen, Thomas Dolby, Miami Sound Machine and so many, many more, plus, this DJ element also includes a fabulous light show, "Awesome 80's" trivia for prizes including actual Miami Vice videos, Miami Vice sound track CDs and more, and how about the New Wave fashion show contest! Picture parachute pants, Sergio Valente shirts and pastel colors everywhere and girls with big-big, ahem, hair!
This Miami Vice theme party is so great for curing the cold winter days of those post New Years Eve blahs. It's "fun in the tropical sun," and a merry Miami margarita and dandy daquiri mixer for curing the Jan -Feb blues!



"Sonny Crockett is ready to rock it!"
Appearance and ask about the optional DJ service.


e-mail : timobeasleystar@aol.com
Phone: 757-589-0903
Call, we love to talk!...or, text if you prefer!
"Las Vegas & Miami -style Entertainment Coast to Coast!"
Licensed and insured since 1986