Roy Orbison Impersonator Tribute Show
Elvis Presley called Roy Orbison "The man with the angel's voice." Roy Orbison left this world much too early as many of the greats do, but when Tim Beasley performs the hits of the original "Man in Black", you'll think the "Big O's" returned on his Harley from Rock N' Roll Heaven!

You and your guests can enjoy an intimate Roy Orbison experience with Tim faithfully reproducing the solid gold songs "Only the Lonely," "Crying," "Candy Man," "Dream Baby," "Oh Pretty Woman," "Blue Angel," "Running Scared," "Blue Bayou," "Mean Woman Blues," "Pretty Paper" (a great Christmas classic written by Willie Nelson!) "Ooby -Dooby," "You Got It" and more!
At either, 30, 45 or 60 minutes, this spotlight concert is the perfect show for any Baby Boomer event or 50's-60's-70's rock and roll theme party. Tim's transformation into Roy is soulfully complete with the looks, voice and most important – feel of the man. Plus, all "Roy" fans want a photo, too.....

From the haunting ballads to the solid rockers, it's "Big O" time with Tim Beasley as "Roy Orbison!"
Events Include

New Years 2000 Millennium Celebration Ocean City MD

Petroleum Club Members Party, Long Beach, CA

Virginia State Fair "Showboat Stage" Richmond, VA

ADI Security Systems Trade Show, Alexandria VA

Dead Legends Show, Halloween Promo for Jillian's

"Endless Summer Cruise," Ocean City, MD

Wal-Mart Car Show, Grafton, WV

KOA Pavilion, "Celebrity Stars" shows weekly

"Taste of Summer Festival,' Kilmarnock, VA

Holiday Inn Oceanside, Virginia Beach, VA

Priority Chevy Toyota "Rock n' Roll" corp. party

National music video with LA based band, "Miss Derringer"

Plus many shows for private events, resorts & nightclubs
See and hear a variety of different appearances from actual performances on this YouTube link!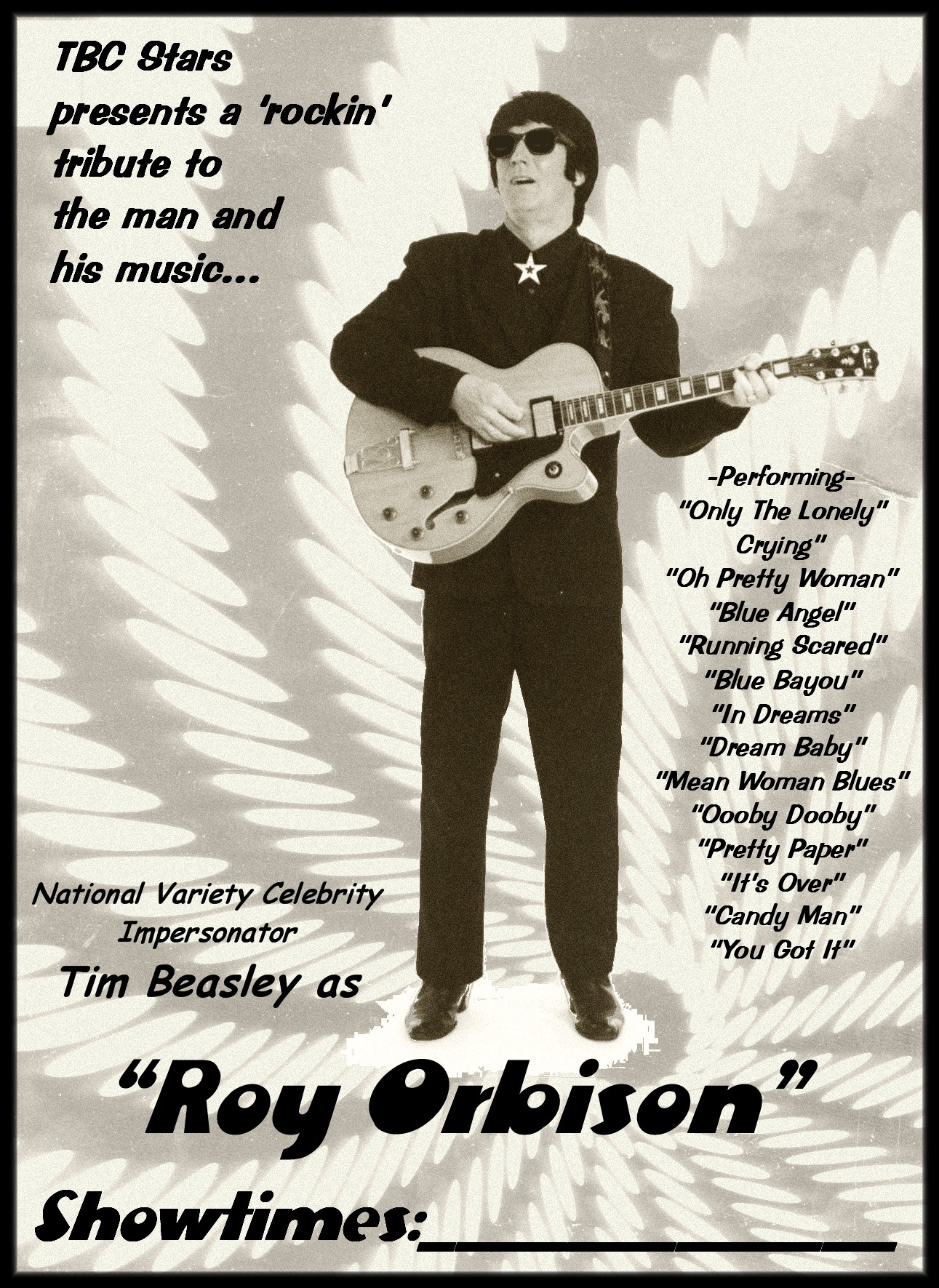 Tim Beasley as "Roy" with Elizabeth "Miss Derringer" McGrath during their MTV filming of rock group Miss Derringer song "Drop Shot Dead,' filmed in Tampa, FL.
"BIG O" BIRTHDAYS FOR FANS!!!